EasyCare Bed Quick Ship
All the great standard features of the EasyCare and ready to ship quickly.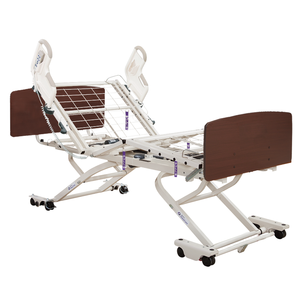 More Information on the EasyCare Bed Quick Ship
BACK TO TOP
Reviews
Viewing 1 - 8 of 8
08/09/2022
Reviewer:
darlene h. from hempstead, ny
User Details:
Not provided
08/01/2022
Weaknesses:
NONE THAT I HAVE FOUND YET.
Reviewer:
barbara m. from marshall, tx
User Details:
HAD A STROKE AND IS PARALIZED ON LEFT SIDE ALSO HAS PARKINSON'S. I AM 81 YRS OLD MY SISTER HAS TO HELP ME GET IN AND OUT OF THE BED THIS BED IS GREAT.
11/17/2019
Reviewer:
eduardo m. from daly city, ca (caregiver)
User Details:
Better than the other hospital bed that we have.
Yes. Was just as expected.
08/16/2019
Weaknesses:
Controller could be a little bit higher so it is easier in the middle of the night or have it light up.
Reviewer:
dorothy d. from cheshire, ct
User Details:
Not provided
OVER ALL ITS A GREAT BED I STILL WANT A PAPER RECIEPT....
07/27/2019
Strengths:
ITS THE WAY IT GOES UP AND DOWN FOR PEOPLE WITH HIP PEPLEAMENTS.
Weaknesses:
IT SHOULD HAVE HANDLE RAILS ON BOTH SIDES I PAID 2638. FOR THE BED AND THEN IM TOLD I HAVE TO PAY FOR THE OTHER RAIL I DON'T THINK SO.
Reviewer:
jesus a a. from carmi, il
User Details:
age 66 disability spinal stienous..I NEED BOTH MY SHOULDER AND KNEE PEPLACED I ALREADY HAVE BOTH HIPS REPLACED.I WASN'T VERY HAPPY WITH JOE JEFFERY.
Fit our needs, space, features and pocketbook.
01/26/2019
Strengths:
Features, streamlines, utility, price.
Weaknesses:
Haven't found any. Exceeded our expectations
Reviewer:
janet m. from orange park, fl (caregiver)
User Details:
My husband's thigh muscles are weak so getting in and out of bed was becoming difficult and dangerous.
Couldn't ask for better service
09/29/2018
Reviewer:
sheila s. from canton, nc
User Details:
I am the user of the bed and it is wonderful.
07/22/2018
Strengths:
I was surprised that it lighted up (underneath) when I got out of bed.
Weaknesses:
The EasyCare bed can not be adjusted when the electricity goes out. No back-up battery. The remote does not light up for you to adjust the bed (at night).
Reviewer:
delyene s. from tallahassee, fl
User Details:
I am a 69 year old person with rheumatoid arthritis and breathing difficulties. I also get bed sores on my back easily.