VivaLift! Urbana
Comfort adjustability mixes with clean, modern lines that will be a stylish addition to your home decor.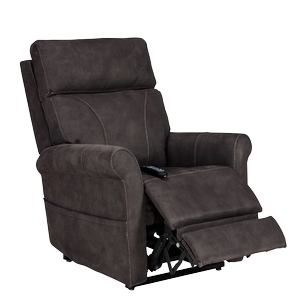 More Information on the VivaLift! Urbana
BACK TO TOP
Reviews
Viewing 1 - 12 of 12
Perfect chair for someone needing assistance moving from...
04/25/2022
Strengths:
Easy to use. We haven't had it long, but the quality seems fine. It's doing what we need.
Weaknesses:
None as of yet.
Reviewer:
ethel h. from oro valley, az (caregiver)
User Details:
85 year-old in post-acute home care after hospital stay. Uses walker once up from the chair.
03/06/2022
Strengths:
Dependable and sturdy construction.
Weaknesses:
Difficult to get chair adjusted, and if you get up, you have to reset everything.
Reviewer:
howard b. from snyder, tx
User Details:
73, widowed.
User says it's the best chair she's ever had!!
01/20/2022
Strengths:
Comfort, maneuverability
Weaknesses:
Can't think of any
Reviewer:
marsha b. from conroe, tx (caregiver)
User Details:
83 yr. old suffering from extreme hip/back/shoulder pain due to injuries, bursitis, and arthritis
06/20/2021
Strengths:
Appears to be well made. Works well. Remote is lite making night use easy.
Reviewer:
willard c. from deering, nh
User Details:
Chair is going to be used after an operation. Will make it easy to get into and out of the chair. Plus recline for rest and sleeping for a few weeks
06/12/2021
Strengths:
Accommodating positions, comfortable
Reviewer:
guy g. from alliance, oh (caregiver)
User Details:
87 year old who just had total hip replacement
Wonderful addition to my life!
08/08/2020
Strengths:
All systems "go" with this product!
Reviewer:
sandy d. from varma, me
User Details:
Age is a factor in slowing me down and giving me lower back problems so the lumbar feature is great!
Everything I hoped it would be and more.
05/23/2020
Strengths:
Extremely comfortable and great support. The remote light up making it easy to see and use. The lift part of the chair is smooth and brings me standing. I highly recommend this chair. It's a very attractive chair and looks great in my family room.
Reviewer:
donna b. from broken arrow, ok
User Details:
I am in my late 60's with limited mobility. Needed a chair that offered great support that I could recline in and assist me with standing when needed.
So far, it's wonderful...no problems at all, fast...
02/27/2020
Strengths:
Easy to assemble, quiet operation Easy to operate, not too large, Looks like it's made well
Weaknesses:
Wish it came with head and arm cloth protectors
Reviewer:
nancy m. from prunedale, ca (caregiver)
User Details:
88 year old Mother Petite, needs to raise her legs for swelling...
This chair has met my expectations for ease of use
09/10/2019
Strengths:
The chair offers: Comfort, ease of use, easy to clean and provides the height needed for ease of standing and sitting.
Reviewer:
karen s. from ben lomond, ca
User Details:
Woman, 74 years old. Diagnosed with Idiopathic Degenerative Peripheral Neuropathy, which makes it difficult to stand and walk.
I recommend, but see if you can try it first in a store
06/19/2019
Strengths:
Independent head, leg and back functions
Reviewer:
george e r. from lebanon, pa
User Details:
Not provided
Does the job it was intended for.
12/20/2018
Strengths:
Very well built, very functional and yet is a nice looking place of furniture.
Weaknesses:
Honestly none.
Reviewer:
rick s. from royal oak, mi
User Details:
Purchased for my wife following hip surgery.
Looks beautiful with all the features I needed.
05/26/2018
Strengths:
The infinite-position chair is fantastic. The fact that I could position the chaise-style footrest, back, headrest, and lumbar all separate from one another has been, and will continue to be, exactly what I wanted and why I bought the chair in the first place.
Reviewer:
lynette b. from st paul, mn
User Details:
I had a tummy tuck and brachioplasty. The chair has been invaluable to me (I am currently in my third week of recovery).
Popular Related Products