EW 11 Euro
This retro styled scooter allows you to take a passenger along for a ride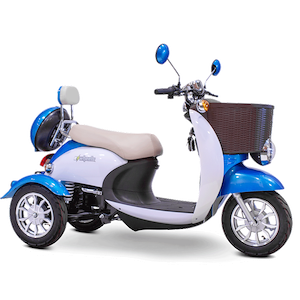 More Information on the EW 11 Euro
BACK TO TOP
Reviews
Viewing 1 - 12 of 22
I love it .. so easy to ride and handles great
01/02/2021
Strengths:
the speed the looks and color and all the features that comes with it..Also the back round storage comes off with a shoulder strand to carry . turn signals..horn and hi and low beam on front and plenty of storage,,very comfortable to ride
Weaknesses:
only took a trial run but so far cant find anything thats wrong I would suggest a helmet and to slow down when making a curve or turn around. and go in #1 speed til gotten used too as it has good power..
Reviewer:
phyllis e. from centertown, ky
User Details:
The first time it was unpacked I loved it.. It has everything a person could want or need is on there..and the looks of the EW11 is so sharp looking
Fun & helpful, all in one
12/31/2020
Strengths:
The idea of being a 2 seater is super, I just wish the seat was a bit larger for more comfort when 2 are riding.
Weaknesses:
The only thing I do not care for is...when you are driving it & have to make a turn...the front basket stays in place, while the front wheel & handle bar turns. It is very deceiving, until you get used to it.
Reviewer:
linda l. from port st lucy, fl
User Details:
I am almost 70, & have severe back issues. I get around OK, but I am almost always in pain. This scooter is a fun way to get around.
10/21/2020
Strengths:
Easy to use and smooth ride
Reviewer:
patricia s. from grand haven, mi
User Details:
I have a bad back and have a really hard time walking. I was missing out on walks with my family. My scooter is great I am a part of the family again.
It is all that I have read about the scooter just great
10/18/2020
Strengths:
The wheels seat floor were the feet ride just great
Reviewer:
james l. from guthrie, ok
User Details:
Not provided
10/18/2020
Strengths:
I'm glad for the lights.
Weaknesses:
It feels a little unstable when turning.
Reviewer:
martha w. from lake village, in
User Details:
64 year old female with mobility issues
Was disappointed that it didn't have analog speedometer
10/16/2020
Strengths:
Very sturdy. Handles great. Awesome design. Would not reach the 18 mph that was stated. Max 12 mph. Unless speedo not correct.
Weaknesses:
Dont care for the led speedometer. EVEN THOUGH it seems to b going faster. Speedo stops at 12mph.
Reviewer:
mike j. from kingston, wa
User Details:
Not provided
I love, love, love my scooter.
10/16/2020
Strengths:
I really love all the bells and whistles on my scooter.
Weaknesses:
So far I haven't found any weaknesses.
Reviewer:
doris s. from newington, ga
User Details:
I am 80 years old and I just love my EW 11 Euro. I have COPD and have some trouble walking but my scooter has been the answer. I ride it every day.
Really fun, cute scooter--just wish there were some way to...
10/16/2020
Strengths:
Attractive appearance, included features--rear view mirrors, phone holder, storage, lights, turn signal, cup holder, etc.
Weaknesses:
Throttle that cannot just be "set" but requires constant engagement by rider, wish the rear wheels were set a little farther apart for stability.
Reviewer:
martta e. from spotsylvania courthouse, va
User Details:
68 year old female, dealing with post covid respiratory issues--so walking, biking, swimming as I used to do is sort of a no go right now.
07/10/2020
Strengths:
The large wheels & power.
Reviewer:
nancy r. from mountinview, hi
User Details:
I use the scooter to go to my daughter's house. I live in the country on unpaved road so the larger wheels are great! My granddaughter loves it too.
I Love my EW 11 Euro scooter.
05/30/2020
Strengths:
Fun sporty design. I have received so many compliments on how cute it looks. Very easy to operate and I feel safe while operating this scooter.
Weaknesses:
No weaknesses that I have experienced.
Reviewer:
melinda h. from parker, co
User Details:
I am an active 73 year old woman who wanted something to help me get around my 8 acre property to do misc. chores. I wanted something safe to drive.
Best thing in my life is my scooter!
05/13/2020
Strengths:
It comes with everything you need
Reviewer:
vida r. from camden, nj
User Details:
I'm a 59 year old woman with knee and lower back problems. Walking a long distance hurts for me, I have my independence back thanks to spin life.
The scooter is everything I hoped it would be.
03/08/2020
Strengths:
The scooter has great range and its high rate of speed lets me get around the lake area where I live. It has ample storage and is easy to access. It gets up to 45 miles per charge, and I regularly cruise along at high speeds.
Weaknesses:
The three wheel configuration seems somewhat unstable, but as I acclimate to it, it gets easier.
Reviewer:
dick b. from sutcliffe, nv
User Details:
I am 77 years old, disabled by spinal stenosis ( surgery pending ) and have extremely limited mobility. I live alone and treasure my independence