9000 XDT
Available in three different seat heights and a variety of seat widths for a wide range of users.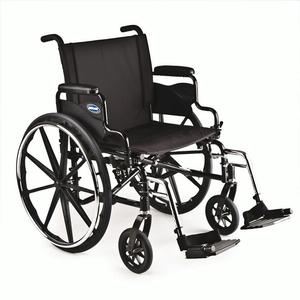 More Information on the 9000 XDT
BACK TO TOP
Reviews
Viewing 1 - 12 of 61
The wheelchair arrived incomplete. Missing the correct...
01/22/2023
Weaknesses:
Assembly is not easy, back rest is not long enough to cover the bottom of the seat on the tallest adjustment. The seat cushion begins to get pushed though the crack between the seat and back rest. I have not received the chrome hand rims that was ordered for the wheelchair.
Reviewer:
ernest (wayne) h. from georgetown, tx
User Details:
Manual 9000 XDT wheelchair 
Good for taller person who is rough on wheelchairs.
04/10/2021
Weaknesses:
Brake handles too long. Brakes often were hit when my son would transfer to a chair and then the brake would disengage. Luckily we assist with transfers and held chair. Took off handles and replaced with rubber tips from previous wheelchair which works ok...
Reviewer:
mary w. from fredricksburg, va (caregiver)
User Details:
40 year old who has MS and previous stroke and seizures.
Good chair and value overall.
01/21/2021
Strengths:
Stoutly made for the most part.
Weaknesses:
Change of design of leg and foot rest. Levers, armrests, and even caps have sharp edges that scratch fragile skin.
Reviewer:
nancy w. from scottsboro, al
User Details:
Late sixties female with one leg amputated above knee. Use for up to 18 hours a day.
08/27/2020
Weaknesses:
the arms break off too readily
Reviewer:
michael p. from vernon rockville, ct
User Details:
Not provided
Very strongly built, comfortable, has extra features...
07/29/2019
Strengths:
Heavy duty, the attachment for crutch holders, comfortable seat, easy to move around, very nice looking, well built frame, height above floor raises body up to respectable height relative to standing people making interaction easier and more comfortable.
Weaknesses:
Protective plastic inserts on seat frame fell out. Brakes stick out a little too far, catches my upper thumb knuckle when pushing forward on the wheel, crutch holder was bent, leg rests are clunky and foot plates turn at weird angles.
Reviewer:
larry b. from racine, wi
User Details:
70 year old man 260#, 1951 polio victim (lower limbs), educated, still has all facilities, uses the chair - distances & shopping, strong upper body
01/20/2019
Strengths:
The size is great for my husband's height and weight (6'4", 170lbs). It rolls smoothly and turns well. He likes the color and materials. It feels very sturdy and is not too heavy.
Weaknesses:
The chair moves when transferring even with locks securely. The front wheels move. I have to put a foot next to the front wheel to secure and it is awkward for both of us. The desk type arm rest is not comfortable for him. I chose it because of the representative's suggestion. The arm rest gets stuck in the small round holder (where the lock is) often and is very difficult to raise. It seems to have nothing to do with the lock. It's the bottom metal area and is scratched on the very bottom where it gets stuck. Sometimes it takes two people to get it unstuck.
Reviewer:
rosemary m. from daphne, al (caregiver)
User Details:
My husband is 6'4", 190lbs, 70 years old, and has a form of Atypical Parkinson's. He can't walk anymore and this chair is great for him.
Great product. This is the third one of this model that I...
10/12/2018
Strengths:
Price and durability!
Reviewer:
william b. from belmont, oh
User Details:
54 year old, right leg above the knee amputee.
Not happy with this chair!
10/04/2018
Weaknesses:
The front wheels are too small..my caregiver says this chair is too hard for him to push, because it's not for my weight, and the small wheels get caught on anything. He is my husband... I feel this purchase was a big mistake on my part. Next time he'll be making the component decisions.
Reviewer:
sunny l. b. from colorado springs, co
User Details:
64 yr woman muscle deterioration, no strength in lower limbs.
This is a replacement from the company, hope this one is...
07/28/2018
Strengths:
Comfortable and strong.
Weaknesses:
The seat sags a bit more than I expected.
Reviewer:
elizabeth m. from dix hills, ny
User Details:
I am in the wheelchair all day. I am unable to walk due to two neck operations, I can transfer to the toilet, and with help the shower.
It needs a laptop carrier.
06/01/2018
Strengths:
Its' strength is good.
Weaknesses:
I wish it had better push rims, and I wouldn't mind slightly wider tires.
Reviewer:
james p. from pontiac, il
User Details:
It is heavy to put in or out of the truck but I expected that. It is very solid when I roll to the coffee shop about a mile and a half away.
Very happy so far with the wheel chair. Have had it for a...
12/24/2017
Reviewer:
holly m. from wind lake, wi
User Details:
75 years old 5'9" heavy
Best chair I have had, easy to use sturdy and comfortable!
10/29/2017
Strengths:
Easy of using and comfort!
Weaknesses:
Arm rest padding covers holding up thus far!
Reviewer:
martha h. from richmond, ky
User Details:
64 year old white female, disabled with arthritis and heart disease.