Protekt O2
Air cell customization combined with Visco gel comfort.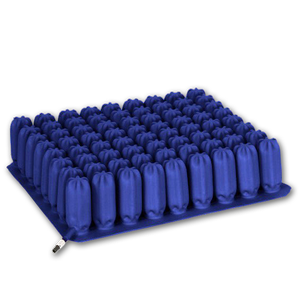 Proactive Medical
(Model No. Protekt O2)
VIEW ITEM
More Information on the Protekt O2
BACK TO TOP
Reviews
Viewing 1 - 11 of 11
My first air cushion. Most comfortable - purchased the...
08/07/2022
Strengths:
I can sit longer without soreness. Very comfortable.
Weaknesses:
Wish it had velcro on bottom, slide on my quickie sling cushion.
Reviewer:
richard w. from warner robins, ga
User Details:
My age is late 50's. Diagnosis is cerebral Palsy. It is getting harder for me to walk and use a wheelchair most of time.
10/12/2019
Reviewer:
william s. from chicago, il
User Details:
Not provided
08/29/2019
Strengths:
It's made of quality material. Better durability than the other more expensive brand. The new cover is another plus.
Weaknesses:
I have found no weaknesses.
Reviewer:
charles m. from new braunfels, tx
User Details:
Not provided
Got what I need to fit my life now. Fills the needs...
08/17/2019
Strengths:
Ease of operation and ability to adjust when and were needed. Cool
Weaknesses:
Air pump could use a better connection mode. Look at oxygen line connectors, I got one and it works great.
Reviewer:
victoria b. from conway, ar
User Details:
Using on JAZZY SPORT 2. 88 year old passenger, 254 lbs. 6'7". 16 hours 24/7. Rides great. Re-air after 30 days. Not complaining.
07/14/2019
Reviewer:
david w. from bowie, md
User Details:
Not provided
05/30/2019
Weaknesses:
I would like to see more size options.
Reviewer:
dean g. from nashua, nh
User Details:
Limited size options requires using the cushion sideways because they don't offer 16" wide and 20" long! Hopefully more durable than a Roho.
04/24/2019
Reviewer:
anthony t. from hope mills, nc
User Details:
I'm T8 para and I might have ordered the wrong night. It makes me sit low but still it's a good cushion. I can all ways use it on top of my showerchai
Searching for alternative air cushion
01/27/2019
Strengths:
Cushion is made of a heavier material. Reasonable price.
Weaknesses:
Cells are a bit firmer than the other brand that I usually purchase. I've purchased a sheepskin material to make sitting more comfortable. Bottom of cushion is more of a hard plastic than rubber. Makes it more difficult to submerge in a sink to find any holes. Will be using this as a backup cushion instead of primary.
Reviewer:
mike s. from inverness, fl
User Details:
54 year old quadriplegic (35 yrs post injury)
Fortunately this product has a 5 year warranty because it...
06/02/2018
Strengths:
Has two air chambers, right and left side.
Weaknesses:
Hopefully my second cushion will not leak.
Reviewer:
roy z. from lake st. louis, mo
User Details:
Spina Bifida at age 74.
Thicker material than name brand.
09/04/2017
Strengths:
Thicker material. Won't shift around when reaching or etc.
Weaknesses:
Thickness of material can be rough on bottom when wearing thin clothes like pajamas or summer jogging pants. Needs (optional) fitted soft padded cover. I use a velvet type couch pillar cover.
Reviewer:
tommie t. from detroit, mi
User Details:
Male, 30+ years as quadriplegic had recent leg amputee. Age 50+ years, 4-5 hours average in wheelchair at a time.
Recommend with a caveat; is less soft than Roho
05/24/2017
Strengths:
Seems to be tougher than Roho
Weaknesses:
Have had to use sheepskin cover to soften the cushion
Reviewer:
samuel l. from dennison, tx
User Details:
Used as a wheelchair cushion