Swivel Seat Cushion
Easily get in and out of your car.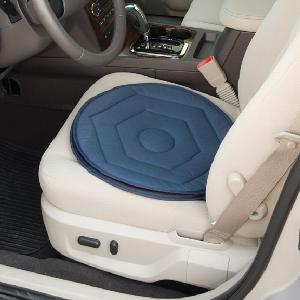 More Information on the Swivel Seat Cushion
BACK TO TOP
Reviews
Viewing 1 - 7 of 7
I expected a more stronger, higher seat. Is fine for what...
09/02/2023
Strengths:
Lighter to move around and carry out.
Weaknesses:
I hope is durable, I'm afraid it would tear.
Reviewer:
rosemarie s. from downey, ca
User Details:
My husband is the user of the Swivel seat. It makes it easy when I help him in and out the car. His 70 yrs and has Parkinson.
08/25/2023
Weaknesses:
hard to get on and be comfortable. didn't move well to the left when trying to exit the car
Reviewer:
karen p. from new kensington, pa
User Details:
Have pp ms (primary progressive) Use a wheelchair. or electric scooter
Does not work for my weight. I was told that it would work...
04/30/2023
Reviewer:
bobby m. from perry, ga
User Details:
I haven't been able to get it to work yet. I need to get a refund. Please take care of this asap.
02/15/2023
Reviewer:
carole m. from abington, ma (caregiver)
User Details:
I am sure it's a great product. I bought one and need it. Your company would not refund me or send to the right address 338 Adams St #4 Abington, MA
Nakes it easy to position myself at the dinner table and...
08/21/2021
Strengths:
Supporting movement.
Reviewer:
maxine j. from elmsford, ny
User Details:
Age/72, inflammation of the muscles(restricted movement)
11/27/2019
Reviewer:
fay k. from la marque, tx
We have to add a layer of cushion to sit on this.
10/14/2017
Strengths:
Does swivel the person easily.
Weaknesses:
Not enough cushion.
Reviewer:
marie s. from daly city, ca (caregiver)
User Details:
Female 89 years old. Very arthritic and little cushion on her buttocks. Thought swivel seat would be more cushioned.