EZ-GO / EZ-GO Deluxe
The tightest turning radius and highest seat back in a portable power chair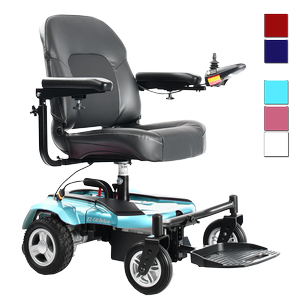 More Information on the EZ-GO / EZ-GO Deluxe
BACK TO TOP
Reviews
Viewing 1 - 12 of 13
06/11/2022
Strengths:
Small and stores easily in the back of the car.
Weaknesses:
One of the pieces that breaks apart for travel is just still a little heavy to lift.
Reviewer:
jennifer b. from mineola, tx
User Details:
51 female with Spinocerebellar Ataxia type 2
03/17/2022
Strengths:
Well put together. Came shipped well packaged. easy to assemble.
Weaknesses:
Time to delivery
Reviewer:
jordan m. from chandler, az
User Details:
It took over 3 months to get it. Everything else was perfect.
01/05/2022
Strengths:
Nice joy stick easy on off button
Reviewer:
lawrence d s. from webster, ny
User Details:
73 year old ms disabled person
EZ-GO / EZ-GO Deluxe: Review
06/10/2021
Reviewer:
donald l. from darlington, sc
User Details:
Not provided
10/11/2020
Strengths:
small size is great for in house use.
Reviewer:
richard d. from green valley, az
User Details:
72 years old. needing to keep off of feet due to a slow-healing ulcer. had 20 year old power chair that need almost continuous adjustments, New chair
Yes. Easy to use. Gives people back their independance.
09/19/2020
Reviewer:
tim s. from san rafael, ca (caregiver)
User Details:
80 year old who can walk with only the assistance of a walker
Convenient for the smaller upstairs doors.
08/29/2019
Reviewer:
les c. from tamas, wa
User Details:
I'll be 90, Oct.13th an enjoy my SpinLife EZ-GO Travel chair for the upstairs rooms. I'm still active and trade the Stock Market.
Limited use but narrow width though wide turn .
01/14/2018
Strengths:
Appreciate the compact nature of this chair - has small footprint. It is narrow in width making it easy to maneuver narrow halls. The back is low and very comfortable.
Weaknesses:
The chair gets caught up on small items and cannot maneuver over the doorway to the garage. It gets hooked up on the metal work. This is an ongoing problem as the back wheels just spin without grabbing the surface throughout the house.
Reviewer:
valerie a m. from bellevue, wa
User Details:
I am a 72 year old female with MS. It has progressed to the point of my being totally dependent on a Power chair. This will supplement a larger chair.
comfort and ease of use. It takes corners well and turns on...
11/29/2017
Weaknesses:
Lack a basket to put on chair
Reviewer:
pamela d. from porter, tx (caregiver)
User Details:
She has end stages of COPD and has a hard time with shorten of breathe. This chair has been the biggest help around the house for her
My batteries don't last long enough.
02/10/2017
Strengths:
The size..fits everywhere.
Weaknesses:
The batteries..they don't last long.
Reviewer:
rubin v. from pharr, tx
User Details:
I only use mine indoors.
A high quality, easily maneuverable powered chair.
11/21/2016
Strengths:
Our house has some narrow hallways and sharp right-angle corners. We needed a chair that can turn on a dime and can navigate the tight spaces we have. The EZ-GO is perfect. It's also a comfortable chair, and my short wife is happy she can easily reach the floor with her feet!
Weaknesses:
Too early to tell how it will hold up. I'm a bit concerned about the light plastic body considering that my wife is always crashing the chair into furniture and the walls. But the most serious issue is that the chair has five speeds (and fast is really fast) and it is far too easy to accidentally change speeds without even knowing that you did it.
Reviewer:
mark b. from tucson, az (caregiver)
User Details:
My wife is in her mid 60s; she's relatively petite at 5'1". She has Parkinson's and recently suffered an accident that has left her wheelchair-boun
Great chair for the price.
09/04/2016
Strengths:
Portability. Comes apart and goes together easy. Stores easily in a trunk
Weaknesses:
A little small for a large person Accessories hard to find for this chair.
Reviewer:
john w. from colwich, ks
User Details:
Would be too small for a large person.