Junior Compact Power Chair
Lightweight and easy to disassemble for handling storage and transporting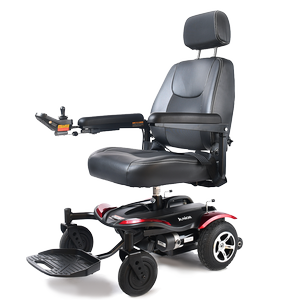 Merits Health
(Model No. P32032JUNIORCOMPACT)
VIEW ITEM
More Information on the Junior Compact Power Chair
BACK TO TOP
Reviews
Viewing 1 - 6 of 6
It is a fine machine. Bought on recommendation of sales...
02/10/2020
Weaknesses:
The seat is a little too tight and back is not adjustable.
Reviewer:
john r. from lincolnton, nc
User Details:
90 year old male
12/28/2018
Reviewer:
linda s. from ocala, fl
User Details:
The chair is perfect. Its easy to use. All the products. I have ordered from Spinlife had been great.
04/14/2018
Strengths:
Ease of operation and mobility.
Weaknesses:
So far, none.
Reviewer:
mary f. b. from katy, tx (caregiver)
User Details:
Husband in assisted living and this chair is the best. It's easy for him to operate and he is benefiting in too many ways to list.
10/30/2016
Strengths:
Breaking down into three parts.
Weaknesses:
Don't have any at this time.
Reviewer:
thomas e a. from jacksonville, ar
User Details:
My wife Lois broke her right leg and right in 2006 and she is 83 years old and her ability to walk long distances is limted.
06/16/2016
Reviewer:
roberto f. from bronx, ny (caregiver)
User Details:
Not provided
My wife is small. Under 5' and 170. The junior size was...
03/12/2016
Reviewer:
gayle r. from decatur, il (caregiver)
User Details:
Not provided