Bariatric Transport Chair
With a folding backrest and removable legrest for easy storage, the Bariatric Transport Chair is a great option for short outings or doctor visits.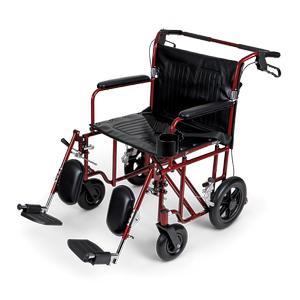 More Information on the Bariatric Transport Chair
BACK TO TOP
Reviews
Viewing 1 - 4 of 4
11/28/2017
Strengths:
So far very sturdy and easy for my husband to handle.
Weaknesses:
I wish the brakes were up further where I could reach them other then that it's very good.
Reviewer:
lucinda s. from coshocton, oh
User Details:
I am 73 yrs. old and the chair is for me do to having a fused right leg. The chair is wonderful and very comfortable.
Chair itself is acceptable.
10/01/2016
Strengths:
Light weight and sufficient comfort for person being transported.
Weaknesses:
Even though chair is light weight is not easily pushed or maneuvered by caretaker when occupied by 300 lb individual. Would be advantage for leg rests to have more adjustable positions.
Reviewer:
patricia i. from indianapolis, in (caregiver)
User Details:
Terminal cancer male age 77. Not able to walk any distances. Needed transport chair for doctor appointments etc.
02/09/2016
Strengths:
Good and strongly.
Reviewer:
gary c. from kodiak, ak (caregiver)
User Details:
They are a very good product, they are easy to use and they have a good braking system and they turn corners easy.
It's a good product, I like it a lot.
10/17/2015
Strengths:
It is sturdy and lightweight.
Weaknesses:
The buttons that keep the backrest upright are not very reliable.
Reviewer:
toni c. from springfield, or
User Details:
I am unable to walk more than a few steps at a time.
Popular Related Products