Nitro Hemi Height
Designed for users 5'2" and shorter, this Euro-stype rollator keeps you looking stylish and independent.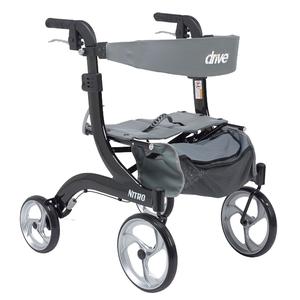 Drive Medical
(Model No. RTL10266BK-H)
VIEW ITEM
More Information on the Nitro Hemi Height
BACK TO TOP
Reviews
Viewing 1 - 1 of 1
Too wide for doorways, difficult to carry items and...
01/05/2020
Strengths:
it can be used by a short person, easy on challenging terrain, and finished sides with no rough edges.
Weaknesses:
Difficult to carry items without under seat storage. The netted bag is flimsy and hard to reach. Nothing stable to hold onto to lift the walker over a small ledge or stair, too wide to easily enter through doorways.
Reviewer:
ann p. from rancho santa fe, ca
User Details:
I am 67, 100 lbs, with MS for 20 yrs. I have been using a walker for 18 mos. Although well made, this for a short person, not a small person.