Battery-Powered Lift
Ideal for homecare use, Drive's Battery-Powered Lift accommodates 2 and 4-point slings while it works both plugged in or off battery power entirely.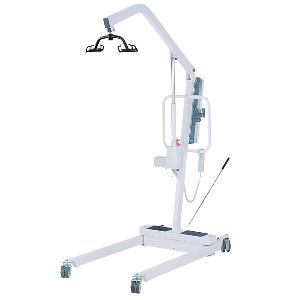 More Information on the Battery-Powered Lift
BACK TO TOP
Reviews
Viewing 1 - 8 of 8
Should have purchased sooner, this is my second Drive...
01/12/2022
Reviewer:
james r. from windsor, ky (caregiver)
User Details:
Not provided
Works as described. Wheels are taller than we were told, so...
03/09/2021
Weaknesses:
Would like to be able to swivel the patient so we don't have to move the lift out from the bed and position him above his wheel chair. We booked white glove service. The Spinlife Agent assured me the tech would wear a facemask, but he entered the house without one. I followed him back to the bed room before I noticed he wasn't wearing a mask. I walked him back to the front door and gave him a disposal mask. He said, "Probably too late now." I was wearing a mask, and fortunately didn't become ill. Entering a home of a high risk person without wearing a mask is UNTHINKABLE at this time. The tech should be advised to meet safety precautions or be dismissed.
Reviewer:
christine b. from davis, ca (caregiver)
User Details:
Male, 80 years old. Weighs 380. Can not stand due to arthritis in knees
Battery-Powered Lift: Review
02/25/2021
Weaknesses:
To open/close legs you have a bar attachment instead of a footpedal
Reviewer:
karon d. from rio vista, ca
User Details:
Not provided
Battery-Powered Lift: Review
04/23/2020
Reviewer:
sandy b. from arlington, wa
User Details:
Once I got it to run, it's great.
It's a good, solid, well made lift.
06/11/2017
Reviewer:
candace b. from chicago, il
User Details:
I have had MS for 40 years and now need a patient lift to get out of bed and transfer into my motorized wheelchair. My husband and CNA operate it.
Does the job but lacks the proper sling to do what we...
11/16/2015
Weaknesses:
Feet are too long for the hanger and are casters too small for carpeting.
Reviewer:
harlan b. from maumee, oh (caregiver)
User Details:
Not provided
Works in an ideal situation for those who are unable to...
11/04/2015
Strengths:
The ease of strapping the patient and by the use of a remote to place the patient into a chair and back to bed.
Reviewer:
george w. from kansas city, ks
User Details:
This lift has given an opportunity to finally get out of bed with ease.
This is an excellent lift.
10/09/2015
Reviewer:
robert s. from colorado springs, co
User Details:
47 year old individual with Charcot-Marie-Tooth Disease.