AL100HD Heavy Duty Platform Scooter Lift
The big brother of the AL100 - able to carry up to 400lbs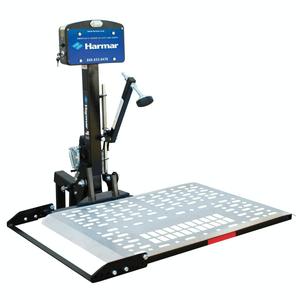 More Information on the AL100HD Heavy Duty Platform Scooter Lift
BACK TO TOP
Reviews
Viewing 1 - 4 of 4
Product does what I need.
08/25/2019
Strengths:
Makes loading and unloading my scooter so much easier.
Weaknesses:
None that we have found.
Reviewer:
sandra t. from nashville, tn
User Details:
77 years old. Injured in auto accident two years ago. We bought a Golden Buzzaround Scooter and needed a hydraulic lift for our SUV.
02/28/2019
Reviewer:
david d. from hendersonville, tn
User Details:
Not provided
11/18/2017
Strengths:
Well built, this is my 2nd one, 1st one is still going strong after 6 years.
Weaknesses:
You need a young man 20 - 45 yrs old with no limitations, who is mechanically inclined with hand tools to put this together.
Reviewer:
chris d. from gainesville, tx
User Details:
White male, 59 years old. Both knees are gone, and a bad heart.
10/19/2016
Weaknesses:
installing the lift
Reviewer:
james e. from johnson city, tn
User Details:
Male 62 disabled