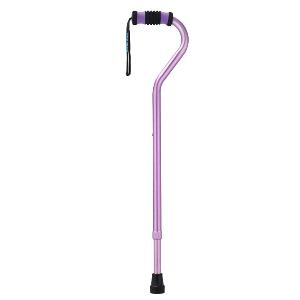 More Information on the Fashionable Offset Cane
BACK TO TOP
Reviews
Viewing 1 - 4 of 4
08/21/2020
Reviewer:
judy p. from owings mills, md
User Details:
I purchased a scooter last year and I was very satisfied. Brought 3 walking canes true to color love them.
Wonderful Cane Very Well Made.
03/04/2019
Strengths:
The hand piece plus the thicker rubber on the bottom.
Weaknesses:
Haven't found any as of yet. Thank You.
Reviewer:
marcia s. from isanti, mn
User Details:
Great cane the padded handpiece is much easier on the hands. Also the thicker rubber on bottom grips a lot better and you're not afraid of falling.
Stable cane that's pretty to-boot!
12/06/2017
Strengths:
I'm only 4'10" and I appreciated the fact that this cane adjusts low enough to fit me properly. As an extra bonus, it arrived adjusted to the shortest setting, so I didn't have to do anything. Also, I didn't expect a hand strap, but I can see where it might come in handy, so it was a pleasant surprise. When looking for a cane, I noticed that some brands (not this one, though) have reviews that question stability, but this one is very secure -- no wobble. Of course, I've never tried any other height settings, so I can't say whether the cane is as secure when set at longer lengths.
Weaknesses:
The rubberized handle makes it easy to hang in most cases, but since there's no hook-like shape, it doesn't always work when trying to hang from certain surfaces -- only a minor issue.
Reviewer:
carol s. from des plaines, il
User Details:
65 year-old who, due to knee problems, occasionally needs the help of a cane to sit, stand, or walk.
Put some bling in your life ...
09/21/2016
Strengths:
It's a great cane and I LOVE it. I added the bling strap and the quad tip. Really, really fun. I currently own two: orange and green. Will probably get the pink one next. It will really brighten your day.
Weaknesses:
Absolutely none ...
Reviewer:
robert n. from iuka, ms
User Details:
I'm a 57-year-old traumatic car-wreck victim whose legs are held together by lot of metal parts. Am currently going through total knee replacements.