Jay Easy
Contoured foam and fluid gel combine to provide greater skin protection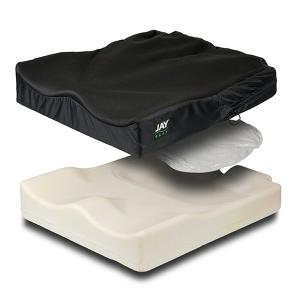 More Information on the Jay Easy
BACK TO TOP
Reviews
Viewing 1 - 10 of 10
08/21/2019
Strengths:
The Gel section of the seat.
Reviewer:
anne s. from mchenry, il
User Details:
Age 65. Multiple Sclerosis. A full cushion of Gel would be helpful to those confined to a wheelchair all day.
If I have to sit all day, this one will work.
02/15/2019
Reviewer:
robert w. from effort, pa
a well made seat cushion but unsuited for flat, plywood seat
12/30/2017
Weaknesses:
For this application, flat plywood scooter seat, the foam at the front of the cushion is too soft and doesn't support the occupant. Perhaps the older cushions with sculpted base are better suited for this usage.
Reviewer:
jay s. from ponca city, ok (caregiver)
User Details:
age 85, had polio as a child, does not have use of legs. Uses a scooter to move in an out of house.
06/06/2017
Reviewer:
leonardo i. from deerfield beach, fl (caregiver)
User Details:
Not provided
05/08/2017
Strengths:
This was a great cushion for the right person.
Weaknesses:
Sadly, I was too heavy for it and without any support under the cushion, it was like I was sitting on nothing which damaged my back. The weight qualifications were misleading.
Reviewer:
rebecca j. from farmington hills, mi
User Details:
As a wheelchair bound adult, I bought this product to alleviate pain. Sadly, it made it worse.
12/29/2016
Strengths:
Alignment & comfort.
Reviewer:
nica m. from albuquerque, nm (caregiver)
User Details:
I ordered this cushion for My son with spina bífida
Not comfortable and tends to sit you too high off the chair.
10/28/2016
Reviewer:
karen r. from thibodaux, la (caregiver)
User Details:
My father is 83 yrs old and battling cancer. Sitting for long periods of time and suffering with hip pain.
I returned this cushion for a refund.
08/14/2014
Weaknesses:
Gel seat does not offer me enough support. It hurt my back because of the way it positioned me.
Reviewer:
jeff k. from kansas city, mo
User Details:
47 years old, 150 lbs, with SCA.
This is the most comfortable cushion I have ever had.
07/11/2014
Strengths:
Everything about it is amazing.
Weaknesses:
So far I haven't found any!
Reviewer:
mechelle n. from boone, nc
User Details:
I have MS and have a hard time getting around.
Very good pressure relief, helps posture.
07/03/2014
Strengths:
Keeps the patient sitting up (not slouching) for comfort and pressure relief.
Reviewer:
elizabeth j. from shelton, wa (caregiver)
User Details:
96 years old, forgets to change position, small pressure ulcer now healed.