Basics Hospital Size Sheet Set
Fits standard 36" width by 80" long hospital bed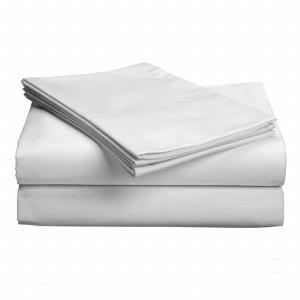 Gotcha Covered
(Model No. H3680/2/WHT)
VIEW ITEM
More Information on the Basics Hospital Size Sheet Set
BACK TO TOP
Reviews
Viewing 1 - 9 of 9
09/16/2021
Strengths:
The mattress fits the bed perfectly and supports her body well. Sheets fit the mattress seamlessly.
Weaknesses:
Haven't seen any to date.
Reviewer:
anne f. from del rio, tx (caregiver)
User Details:
Person is 91 years of age, having had a second stroke in 2017, which has left her bedridden 24/7.
Very much enjoy both the mattress topper and the soft...
06/23/2017
Strengths:
My favorite strength of the sheets is the extreme softness.
Weaknesses:
I haven't found any weaknesses yet.
Reviewer:
bev g. from mcminnville, or
User Details:
Female, age 86, severely handicapped and living in an assisted living facility.
05/13/2017
Reviewer:
albert c. from east stroudsburg, pa
User Details:
60 year old female incontenant
Great quality, easy order and good delivery
10/28/2016
Reviewer:
jim b. from contoocook, nh
User Details:
69 year old male after hip repair/replacement.
07/29/2016
Weaknesses:
Should have regular top sheet.
Reviewer:
lee f. from apple valley, ca (caregiver)
User Details:
Patient likes to keep feet outside of sheets so she cant do this with the top sheet made to tuck around mattress.
A Hospital Sheet Set that fits a Thin XL Hospital Mattress!
04/21/2016
Strengths:
The biggest strength of this sheet set is the fact that it is made for a THIN mattress. Unless you have a hospital mattress with air, you need a sheet with a narrow depth, not ones that fit common beds for everyone else. The second thing is this sheet set actually STAYS in place with an adjustable hospital bed. This in itself is worth the world for someone that unable to keep pulling it up each time the bed is put up or down.
Weaknesses:
I only wish is came in purple and lilac. So more colors. White, while easy to launder, is so sterile for patients at home. I use a ton of pillows so the ability to add additional pillow cases would be nice. It's harder than one thinks to find regular sized desired style pillow cases that do not belong to a set.
Reviewer:
diana s. from blue springs, mo
User Details:
A 30 something bed bound patient dying from respiratory failure due to a rare disease called Mitochondrial Disease.
Basics Hospital Size Sheet Set: Review
07/25/2015
Reviewer:
paula j. from green, fl (caregiver)
User Details:
Sheets fit great
02/22/2015
Reviewer:
raymond b. from lake wales, fl (caregiver)
User Details:
Not provided
Basics Hospital Size Sheet Set: Review
12/02/2014
Strengths:
Well made and, as the caretaker, I find this chair very easy to use. I liked being able to pick and add other options for the chair too. Looks Great. Feels Great.
Weaknesses:
I have not found any weakness at this time.
Reviewer:
kim s. from crest hill, il (caregiver)
User Details:
Perfect fit for my 87 year old father. This chair will be used for transport and trips out.