Prodigy Mattress Overlay
Three individual sections snap together and can be adjusted for the right comfort level.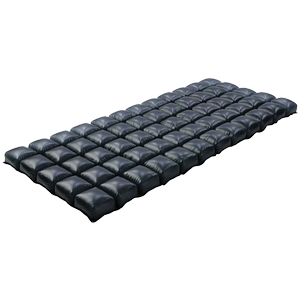 More Information on the Prodigy Mattress Overlay
BACK TO TOP
Discontinued
This product is either discontinued by the manufacturer, or no longer available at SpinLife.com.
To find a comparable product at SpinLife.com, please
click here
or call our ProductExperts at 1-800-850-0335.
Need a Manual?
Reviews
Viewing 1 - 9 of 9
This great mattress takes the pressure off!
03/20/2014
Strengths:
Mattress cover provides great support in three separate sections & is easy to inflate.
Weaknesses:
Only weakness is the difficulty of maintaining air pressure; it's always a very subjective guess!
Reviewer:
norma s. from oneill, ne
User Details:
I am a 68 year old with MS, Lyme disease, severe osteoporosis & more, currently recovering from a second broken leg.
11/27/2013
Strengths:
Washable, easily inflated with pump provided.
Weaknesses:
Hot,but I don't know how this could be prevented since product in a thick inflatable overlay.The other problem is MY CATS with claws that want to be on the bed with their Dad.
Reviewer:
vicki b. from pantego, tx (caregiver)
User Details:
Totally paralyzed,neuro disease,has to stay in same position he is placed in so pressure areas are always a concern.
Second purchase. Held up 4 years.
08/01/2013
Strengths:
The mattress relieves pressure. It does what it is supposed to do.
Weaknesses:
Repair kit is hard to use. Not always successful.
Reviewer:
janet w. from endwell, ny
User Details:
63, female, paraparesis
10/28/2011
Strengths:
Easy to wash off and dry
Weaknesses:
A little squeeky when mashed, NO BIG DEAL!
Reviewer:
vicki b. from pantego, tx (caregiver)
User Details:
My husband,completely paralyzed by Progressive Supranuclear Palsy was having some skin breakdown ,mostly on his tail bone area.
gets too hot for comfort and continued use
08/08/2011
Strengths:
It does provide softer, supportive surface
Weaknesses:
material gets too hot to use during warm weather
Reviewer:
isbel k. from downey, ca (caregiver)
User Details:
86 yo quadriparesis looking for a comfortable mattress
Wife has MS this lets her sleep
06/25/2011
Strengths:
The other bed overlays go thin on the butt creating a valley the makes sleeping uncomfortable. This is great no valley she has no pain and sleeps great.
Reviewer:
pleasant p. from plano, tx
User Details:
Not provided
substantial reduction in pain and soreness
05/11/2011
Strengths:
Distributes the weight to minimize pressure spots and sore spots. Heavy duty materials and durable construction. Adjustability.
Weaknesses:
Not really a weakness, but something to plan for....because the inflatable mattress adds about four inches in height over the existing mattress, it can be more difficult to get in and out of the bed.
Reviewer:
jerome s. from rancho santa fe, ca (caregiver)
User Details:
73-year young female who just underwent her second hip joint replacement. Her other hip was replaced five months ago.
Very helpful in avoiding pressure sores
04/21/2011
Strengths:
Comfort, adjustability
Weaknesses:
I'd like to see an option in the size of the inflating squares
Reviewer:
byerl s. from douglasville, ga (caregiver)
User Details:
Wife 57 Multiple Sclerosis
might be good for small bed.
02/18/2011
Weaknesses:
air pockets to tall.
Reviewer:
gerald r. from las cruces, nm
User Details:
paralyzed mid chest, air pockets to tall, there like 4 inches high. i was hoping for small air pockets like the mini roho cushin.