Top End Excelerator
Great standard handcycle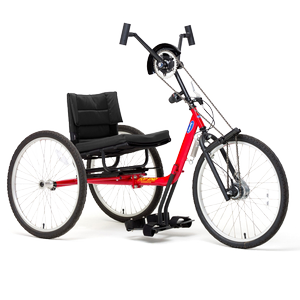 More Information on the Top End Excelerator
BACK TO TOP
Reviews
Viewing 1 - 4 of 4
08/11/2018
Weaknesses:
I had difficulty with the parking brake.
Reviewer:
lori d. from riverdale, nj
User Details:
I am a 41 year paraplegic female. I bought the handcycle so I can lose weight, ride bikes with my daughter, and enjoy life.
Top End Excelerator: Review
06/20/2017
Reviewer:
evony c. from washington dc, dc
User Details:
Not provided
Should've ordered it with MOUNTAIN DRIVE. The smallest of...
10/18/2016
Weaknesses:
Should've been encouraged too get the MOUNTAIN DRIVE.
Reviewer:
sonny w. from taveres, fl
User Details:
I'm a 52 year old male T-4 paraplegic. I have been paralyzed since I was 16.
Top End Excelerator: Review
04/09/2014
Reviewer:
thomas c. from woodville, fl
User Details:
Male, 67, no longer able to use a regular bicycle