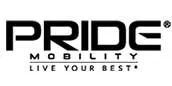 Pride Mobility
Welcome to the Pride Mobility Store! Pride Mobility Products Corporation is the world's leading manufacturer of personal mobility products, including the iconic Jazzy power chair, offering the highest performing mobility solutions and technology in the industry.
SpinLife sells the full line of Pride Mobility products.
At SpinLife we sell the full line of Pride mobility scooters, power wheelchairs and lift chairs. We have you covered if you are looking for a Go-Go mobility scooter or a Jazzy power wheelchair. In fact, we are the largest retailer of Pride products online and also have Pride Mobility products that are exclusive to SpinLife. To make you feel more comfortable with your Pride Mobility online purchase. Don't hesitate to give our experts a call with any questions about Pride Mobility Products. We're always here to provide you with the expert advice you need to ensure you're satisfied with your purchase.