Women's Long Sleeve Top
For caregivers who are looking for an easier dressing experience
NEED HELP OR ADVICE?
Our Product Experts are here for you
1-800-850-0335
The SpinLife Difference Includes:
30 Day Warranty
SHIPPING INFORMATION
Leaves Warehouse In:
Ground Shipping:
FREE for orders over $50!
Expedited Shipping:
2nd Day: $0.00
Overnight: $0.00

OVERVIEW
Features
Side seam opens up from shoulder to waist
Ultra-comfortable stretch fabric
Hidden magnetic snaps fully close the side seam for complete coverage
Buttons along the shoulder provide a stylistic flare
Unique open-side-design for ease of dressing
Overview
Joe & Bella's Everyday Long Sleeve Top is a practical and stylish solution for women who need help from another person when putting on a shirt. This lovely, thoughtfully designed garment simplifies dressing without compromising on aesthetics. The back opening, reminiscent of a hospital gown, eliminates the need to raise your arms above your head. Along the side-seam are a series of strategically placed hidden snaps that effortlessly open and close the shirt from bottom to shoulder.

Why We Like It
Joe & Bella's Everyday Long Sleeve Top innovative design ensures complete coverage and a stress-free dressing experience that avoids uncomfortable pressure points. The adaptive features seamlessly blend with the top's style, featuring elastic cuffs for comfort and stretch. Stylish buttons adorn the shoulder seams, cleverly concealing the snaps. With its rounded neckline, this exquisite top offers fashion and functionality in perfect harmony.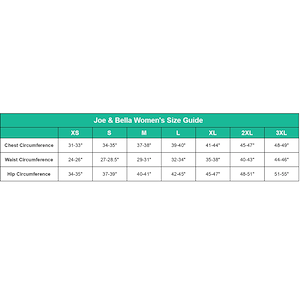 WARRANTY
Warranty Information
Due to the personal nature of this product, we will not be accepting returns on this item. In the rare case that the product arrives damaged or defective, please let us know immediately.

Defective products will be replaced at no cost. This return can often be expedited by providing a digital image of the damage or defect along with a description of the problem in your email. If the damage defect cannot be verified, we may need you to return the product to us for inspection before a final determination can me made as to resolution. Note: Physical returns without the proper return authorization will not be accepted.

We appreciate your business and want you to be completely satisfied with your purchase.
RETURNS
Return Policy
This item is non-returnable for one of the following reasons:
This item is custom-made by the manufacturer to suit your specific needs . Please review all specifications carefully before placing your order. Once production of your item has begun – the order is unable to be cancelled.
For hygienic safety and per FDA regulations this item is non-returnable, even if unused.
Once products are installed, the product is no longer returnable.
Please inspect your product upon delivery. If the product is damaged or is not the correct product, please refuse the delivery. If your item was delivered without a signature and is damaged or incorrect please call SpinLife Customer Service.
If you have questions about this item please call a SpinLife Expert at 1-800-850-0335.