Women's Chino
Women looking for a dressier adaptive pant that's ideal for lounging at home & going out










NEED HELP OR ADVICE?
Our Product Experts are here for you
1-800-850-0335
The SpinLife Difference Includes:
30 Day Warranty
SHIPPING INFORMATION
Leaves Warehouse In:
Ground Shipping:
FREE for orders over $50!
Expedited Shipping:
2nd Day: $0.00
Overnight: $0.00

OVERVIEW
Features
Two discreet side zippers extend all the way from waist to ankle
Zippers create large ankle opening and secured by snaps
Discrete pull-up handles cleverly designed within waistband
Side snaps positioned slightly forward to avoid pressure points
Overview
Say hello to Joe & Bella's Freedom Chinos—a favorite for casual yet classy dressing! These pants are all about making life easier while keeping you looking fabulous. Picture this: side zippers that go from waist to ankle and snap closures for easier dressing. And guess what? You can zip them up or down from either end, so slipping into them with shoes on is a breeze. Not only do they look amazing, but they also feel incredibly comfortable, making them perfect for all sorts of social events. Experience the unparalleled convenience and refined style of Joe & Bella's Freedom Chinos. Elevate your wardrobe today with these remarkable pants that effortlessly merge ease with sophistication.

Why We Like It
Freedom Chinos boast a range of features all designed to enhance your dressing experience. In addition to the two side zippers, a stretch waistband ensures a tailored look that adapts to different body types, while maintaining a polished chino waistband appearance. Made from extra-stretchy fabric, these lovely pants offer both comfort and freedom of movement. The ergonomic fit is thoughtfully designed to prevent sliding or bunching when seated, ensuring a consistently sophisticated look, making them a wonderful option for those who spend a lot of time sitting down. Elegant pleats ensure the pants provide a flattering look on all body types. Side snaps are carefully positioned to avoid pressure points, and extra-long, discreetly hidden zipper pulls ensure effortless dressing without sacrificing style.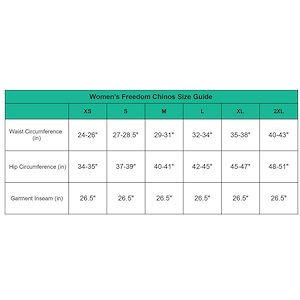 WARRANTY
Warranty Information
Due to the personal nature of this product, we will not be accepting returns on this item. In the rare case that the product arrives damaged or defective, please let us know immediately.

Defective products will be replaced at no cost. This return can often be expedited by providing a digital image of the damage or defect along with a description of the problem in your email. If the damage defect cannot be verified, we may need you to return the product to us for inspection before a final determination can me made as to resolution. Note: Physical returns without the proper return authorization will not be accepted.

We appreciate your business and want you to be completely satisfied with your purchase.
RETURNS
Return Policy
This item is non-returnable for one of the following reasons:
This item is custom-made by the manufacturer to suit your specific needs . Please review all specifications carefully before placing your order. Once production of your item has begun – the order is unable to be cancelled.
For hygienic safety and per FDA regulations this item is non-returnable, even if unused.
Once products are installed, the product is no longer returnable.
Please inspect your product upon delivery. If the product is damaged or is not the correct product, please refuse the delivery. If your item was delivered without a signature and is damaged or incorrect please call SpinLife Customer Service.
If you have questions about this item please call a SpinLife Expert at 1-800-850-0335.