Everyday Magnetic Button-Down for Men
Looks like an everyday button up with an easy magnetic closure








NEED HELP OR ADVICE?
Our Product Experts are here for you
1-800-850-0335
The SpinLife Difference Includes:
30 Day Warranty
SHIPPING INFORMATION
Leaves Warehouse In:
Ground Shipping:
FREE for orders over $50!
Expedited Shipping:
2nd Day: $0.00
Overnight: $0.00

OVERVIEW
Features
Magnetic front closure system
Stretch fabric on cuffs and between shoulders
Ideal for independent and assisted dressers
Machine washable
Classic look with modern flair
Armholes enlarged and lowered
Overview
The Everyday Magnetic Button Down for Men by Joe and Bella is a stylish and functional shirt designed for individuals who struggle with traditional button-up shirts. It features a unique magnetic closure system that makes it easy to put on and take off, without the hassle of traditional buttons. The shirt is made from a soft and comfortable cotton blend material that is easy to care for and durable. It is available in a variety of colors to suit different preferences.
Why We Like It
The Everyday Magnetic Button Down closure system is hidden beneath the fabric, providing a seamless appearance that looks like a traditional button-up shirt. The magnets are strong enough to keep the shirt securely closed, but also easy to undo with one hand. The Everyday Magnetic Button Down for Men is designed with versatility in mind. It can be dressed up for formal occasions or dressed down for more casual events. It also features a chest pocket for added functionality.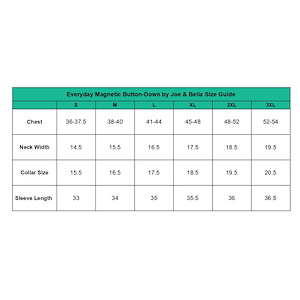 WARRANTY
Warranty Information
Due to the personal nature of this product, we will not be accepting returns on this item. In the rare case that the product arrives damaged or defective, please let us know immediately.

Defective products will be replaced at no cost. This return can often be expedited by providing a digital image of the damage or defect along with a description of the problem in your email. If the damage defect cannot be verified, we may need you to return the product to us for inspection before a final determination can me made as to resolution. Note: Physical returns without the proper return authorization will not be accepted.

We appreciate your business and want you to be completely satisfied with your purchase.
RETURNS