Everyday Freedom Pant for Men
Your new "go-to" pants for comfort and ease of dressing.
NEED HELP OR ADVICE?
Our Product Experts are here for you
1-800-850-0335
The SpinLife Difference Includes:
1 Year Limited Warranty
SHIPPING INFORMATION
Leaves Warehouse In:
Ground Shipping:
FREE for orders over $50!
Expedited Shipping:
2nd Day: $0.00
Overnight: $0.00

OVERVIEW
Features
Great look & fit for men of all body types
Breathable 4-way stretch fabric keeps you cool when it's hot
Comfortable & smooth waistband with extra-stretchy adjustable fabric
Durable moisture-wicking & non-wrinkle fabric
Two side zippers extend from waist to knee and close with easy snaps
Key Specs
Manuals, Literature & Videos
Overview
Indulge in the luxurious comfort and dressing ease of the Everyday Side Zip Pants! Meticulously designed with easy dressing in mind, these pants feature two long side zippers that ensure effortless and quick changing. With an emphasis on comfort, these pants allow you to embrace your personal style while feeling fantastic. Combining ease, comfort, and fashion, they are a flawless choice for everyday wear.
What Makes This Different

The distinguished features of these pants include a fashion-forward tapered fit especially tailored for men of all body types and sizes. Two side zippers extend seamlessly from waist to knee, providing unmatched convenience during dressing, making them a great option for those who experience difficulty when getting dressed. By opening up the pants with zippers, it's so much easier to pull them up. Carefully positioned snaps ensure a 360-degree comfort experience, eliminating any discomfort from pressure points. Crafted from a breathable 4-way stretch fabric, these pants keep you cool in hot weather and warm when temperatures drop. The waistband is both comfortable and smooth, boasting extra-stretchy fabric that adjusts effortlessly to accommodate all sizes. With two side pockets, faux back pockets, and a faux fly, these pants offer both functionality and style. Experience the epitome of elegance and comfort with Everyday Size-Zip Pants for Men. They effortlessly combine convenience, exceptional fit, and timeless style.
Why We Like It
The Everyday Freedom Pant by Joe & Bella was invented by a daughter whose mother lived with Alzheimer's. She first hand observed the need to help caregivers and adults by making dressing easier, quicker, and stress-free. Reimagined by a former Lululemon designer, Freedom Pant offers a modern, tapered fit. A brilliant design to help solve an everyday problem: function and fashion coming together to have you look good and feel good too!
*If you are between sizes, we strongly suggest choosing the larger of the two sizes.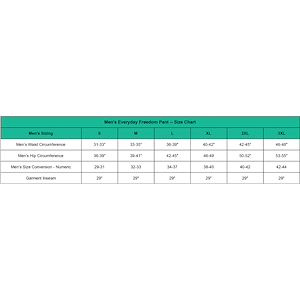 WARRANTY
Warranty Information
Due to the personal nature of this product, we will not be accepting returns on this item. In the rare case that the product arrives damaged or defective, please let us know immediately.

Defective products will be replaced at no cost. This return can often be expedited by providing a digital image of the damage or defect along with a description of the problem in your email. If the damage defect cannot be verified, we may need you to return the product to us for inspection before a final determination can me made as to resolution. Note: Physical returns without the proper return authorization will not be accepted.

We appreciate your business and want you to be completely satisfied with your purchase.
RETURNS
Return Policy
This item is non-returnable for one of the following reasons:
This item is custom-made by the manufacturer to suit your specific needs . Please review all specifications carefully before placing your order. Once production of your item has begun – the order is unable to be cancelled.
For hygienic safety and per FDA regulations this item is non-returnable, even if unused.
Once products are installed, the product is no longer returnable.
Please inspect your product upon delivery. If the product is damaged or is not the correct product, please refuse the delivery. If your item was delivered without a signature and is damaged or incorrect please call SpinLife Customer Service.
If you have questions about this item please call a SpinLife Expert at 1-800-850-0335.