CareZips® Men's Adaptive Pants
The pants designed to make your life easier with NEW FEATURES
NEED HELP OR ADVICE?
Our Product Experts are here for you
1-800-850-0335
The SpinLife Difference Includes:
30 Day Warranty
SHIPPING INFORMATION
Available in:
Leaves Warehouse In:
Ground Shipping:
FREE for orders over $50!
Expedited Shipping:
2nd Day: $0.00
Overnight: $0.00

OVERVIEW
Features
Includes front pockets and longer inseam 30.5"
3 zipper patented design
Fashion-forward
Ease of dressing and undressing
Superior fabric durability
Overview
CareZips Classic was designed for those living with mobility issues, difficulty of dressing and/or has incontinence. They have a classic fit with a straight leg and polyester fabric that comes in black, grey, and blue. The three-zipper patented system allows them to open in the front from the waist to the knees. There are two zippers placed near each hip that open for ease of dressing. The third zipper is along the inside thighs to make it easier for changing incontinence products, catheters, and stents. Which also benefit wheelchair users when it comes to mobility issues and ease of dressing. Additionally there are two front pockets and a longer inseam of 30.5"
What Makes This Different
This innovative "spin-wear" item has become a favorite among wheelchair users. CareZips are wonderful for all who use other mobility aids and those who need assistance getting dressed. The award-winning pant has received positive reviews from wearers and caregivers alike for making dressing easier and quicker, especially for those who use incontinence products. What's more, thanks to the three-hidden-zipper design, wearers can get these pants on and off easily while seated or lying down. The 4-way-stretch performance fabric makes CareZips soft to the touch and extra-comfortable all day long.
Why We Like It
CareZips Classic by Joe & Bella was invented by a daughter whose mother lived with Alzheimer's. She first hand observed the need to help caregivers and adults by making dressing easier, quicker, and stress-free. Reimagined by a former Lululemon designer, CareZips offers a modern, tapered fit. A brilliant design to help solve an everyday problem: function and fashion coming together to create the ultimate wheelchair pant!
*Functions of zippers are as illustrations show.
*If you are between sizes, we strongly suggest choosing the larger of the two sizes.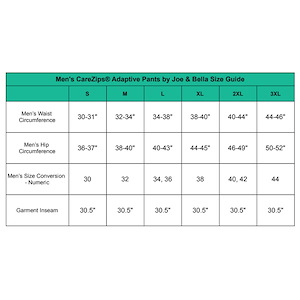 WARRANTY
Warranty Information
Due to the personal nature of this product, we will not be accepting returns on this item. In the rare case that the product arrives damaged or defective, please let us know immediately.

Defective products will be replaced at no cost. This return can often be expedited by providing a digital image of the damage or defect along with a description of the problem in your email. If the damage defect cannot be verified, we may need you to return the product to us for inspection before a final determination can me made as to resolution. Note: Physical returns without the proper return authorization will not be accepted.

We appreciate your business and want you to be completely satisfied with your purchase.
RETURNS