15-Foot Modular Ramp
Professional Installation Included! 15-Foot Modular ramp with a variety of options to fit your space.

















NEED HELP OR ADVICE?
Our Product Experts are here for you
1-800-850-0335
The SpinLife Difference Includes:
Free Shipping for Orders Over $50
1 Year Warranty
SHIPPING INFORMATION
Leaves Warehouse In:
Ground Shipping:
FREE for orders over $50!
Expedited Shipping:
2nd Day: $0.00
Overnight: $0.00

OVERVIEW
Features
Includes Professional Installation!

Compatible up to 15 inch rise

Ensures easy access for individuals using wheelchairs, walkers, or scooters



Ramp sections can be easily disassembled and stored when not in use
Equipped with a non-slip surface to provide traction and enhance safety
Harmar modular ramps are engineered to support heavy loads



Key Specs
Weight capacity: 850 lbs.
Weight: 268 lbs.
Manuals, Literature & Videos
Overview
The 15-Foot Modular Ramps by Harmar is a versatile and customizable accessibility solution designed to provide safe and easy access for individuals with mobility challenges. Restore your independence and activity with the comfort of knowing your home is safe again. It is a portable ramp system that can be installed both indoors and outdoors, allowing for convenient access to homes, and other locations. The ramps are constructed to be easily connected and disconnected. They are made of high-quality materials like aluminum to ensure durability and corrosion resistance, making it suitable for long-term outdoor use.
Why We Like It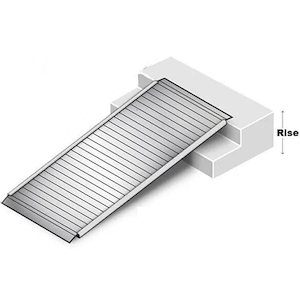 Example: If Rise is 14 inches, then you would need a 14 foot ramp length. If you have any questions, please call our ProductExperts at 1-800-850-0335.
WARRANTY
Warranty Information
The Harmar Mobility warranty is the simplest in the industry, a 1-Year Fully Transferable Warranty. If the product changes hands, the remainder of the warranty transfers to the new owner. Other manufacturers offer a warranty only on the original owner's usage, but we warranty the product itself. That is how committed we are to producing the highest-quality lifts and ramps you can buy.
RETURNS
Return Policy
This item is non-returnable for one of the following reasons:
This item is custom-made by the manufacturer to suit your specific needs . Please review all specifications carefully before placing your order. Once production of your item has begun – the order is unable to be cancelled.
For hygienic safety and per FDA regulations this item is non-returnable, even if unused.
Once products are installed, the product is no longer returnable.
Please inspect your product upon delivery. If the product is damaged or is not the correct product, please refuse the delivery. If your item was delivered without a signature and is damaged or incorrect please call SpinLife Customer Service.
If you have questions about this item please call a SpinLife Expert at 1-800-850-0335.