Toilet Lift
Fully automated toilet lift that will renew your independence in the bathroom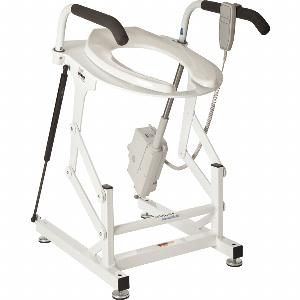 LiftSeat
(Model No. INDEPENDENCEII)
VIEW ITEM
More Information on the Toilet Lift
BACK TO TOP
Reviews
Viewing 1 - 4 of 4
Life changing... taken the stress of using the restroom...
02/16/2021
Strengths:
The control you have with the remote, the speed it lifts at and the security of the handles.
Weaknesses:
When the seat is all the way down my feet (5'2" tall) don't sit flat on the ground.
Reviewer:
debbie m. from issaquah, wa
User Details:
Sixty two year old women with MD. She unable to get up from chairs or walk without walker.
02/28/2019
Strengths:
Sturdy product and easy assembly.
Weaknesses:
Won't work if power goes out but understand that a battery back up is available.
Reviewer:
alice e. from cape coral, fl (caregiver)
User Details:
This was a tremendous help for a person who has limited strength in arms and legs.
Every elderly person should have these lift seats.
07/27/2016
Strengths:
The lift seat is strong and easy to use.
Reviewer:
boyd m. from lubbock, tx (caregiver)
User Details:
My mother is 80 years old and has trouble standing and sitting.
She can use it, and it makes her life easier.
07/16/2014
Strengths:
Does everything it's advertised to do. Makes life easier for an unsteady person who needed help in the bathroom. Easy to clean.
Weaknesses:
She had trouble with the buttons. They weren't raised enough for her fingers to feel comfortably. She can't see the remote due to macular degeneration. I put some hot glue on the buttons to raise them for her, and she learned to use it quickly after that.
Reviewer:
john w. from griffin, ga (caregiver)
User Details:
93 year old mother with terrible arthritis in her knees. Can't easily get herself up from sitting position.
Popular Related Products