Travel-Ease Folding Power Chair
Easily folds with a drive range of 18 - 25 miles and heavy-duty options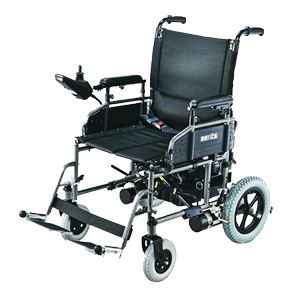 More Information on the Travel-Ease Folding Power Chair
BACK TO TOP
Reviews
Viewing 1 - 7 of 7
Well pleased customers service and the way everything was...
09/29/2023
Strengths:
A1 easy to use in side and out side would not be afraid to go any where with the wheelchair
Reviewer:
jimmy t. from clover, sc
User Details:
Not provided
05/25/2023
Reviewer:
gemma c. from dorchester, ma
User Details:
Not provided
The Merits power chair is perfect for getting around the...
08/21/2019
Strengths:
The power chair is a tank and a jungle gym. I take it off road -- through fields and down hill on walking paths -- no problem. It's solid enough that I can I use it to help pull myself up off the floor.
Weaknesses:
The engines on my current and past Merits power wheelchairs began to make a whirling noise after about a week.
Reviewer:
colleen s. from carmel, ca
User Details:
Very active 68 year old, post-polio person.
11/28/2018
Strengths:
gets me around with ease
Reviewer:
lydia c. from folsom, ca
User Details:
Not provided
Travel-Ease Folding Power Chair: Review
01/28/2018
Strengths:
Removable arms are wonderful. 100% pleased.
Weaknesses:
Product is excellent.
Reviewer:
lynda d. from menlo park, ca
User Details:
For an older gentleman who can no longer walk. But he can get around the house and it saves my back from pushing a regular wheel chair.
02/16/2017
Strengths:
As a care giver I can't lift it to travel with but is still very helpful.
Reviewer:
pam t. from wills point, tx (caregiver)
User Details:
My husband is on dialysis and unable to walk. He uses it in the home and on ramp. I'm sure he will use it outside when weather permits.
Great sturdy, functional chair- very well made
04/14/2016
Strengths:
Built solid, long lasting, easy to use and easy to care for
Weaknesses:
Faultless chair---wrong size for my spouse
Reviewer:
charles a s. from west palm beach, fl (caregiver)
User Details:
Early 70's stroke victim, high blood pressure and heavy weight, 5"3" in. 235 lbs, Stable now with blood pressure meds but can't walk.