Jay Basic Pro
A moderately contoured foam cushion that helps to achieve a more comfortable lower body positioning and stability.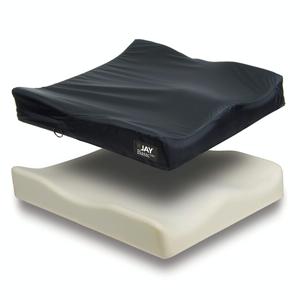 More Information on the Jay Basic Pro
BACK TO TOP
Reviews
Viewing 1 - 2 of 2
09/26/2014
Strengths:
Velcro attachments.
Weaknesses:
After sitting in the wheelchair for 20 to 30 minutes my bottom begins to sweat. I am not over weight. This product needs a different cover.
Reviewer:
muray f. from hollywood, fl
User Details:
General mobility for getting around in stores and out door activities.
Wish it had listed that the velcro was the soft side.
03/24/2014
Strengths:
Soft, comfortable, aided in good posture
Weaknesses:
Has the soft side of velcro, as does my wheelchair, so it moves around
Reviewer:
danielle k. from coral gables, fl
User Details:
Smaller than average 20 yea old w/ muscular issues