Jazzy 1450
600 lbs. weight cap, front-wheel drive power chair with seat widths up to 32".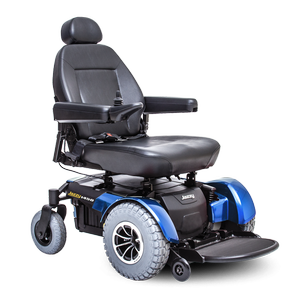 More Information on the Jazzy 1450
BACK TO TOP
Reviews
Viewing 1 - 4 of 4
05/02/2022
Strengths:
Solidly built. Faster then my old power chair. Sets taller and a good comfortable cushion. Large drive wheel make large cracks smaller when crossing them. All around. A very good buy.
Weaknesses:
Front anti-tip wheels stick farther out then other chairs; square blocks have sharp corners, hard on feet/ankles. Arm rests to short for large people. Back of seat does not tip back. Otherwise a great power wheelchair.
Reviewer:
david w. from steve point, wi
User Details:
I am 77 yrs old. I have arthritis in my my both feet, both knees, both hips and tail bone pain. Poor balance, walk 15 ft w/ 4 walker.
I have pros and cons about your chairs. I've had the 614HD,...
10/19/2019
Strengths:
I like that you can get a larger seat.Also that you can raise the seat.
Weaknesses:
I ordered a footplate that was larger which was a mistake because the footplate comes up to the seat and makes it difficult to get in and out of the chair.The 614HD front wheels were too far apart making it hard to get out of the chair.
Reviewer:
susan s. from antigo, wi
User Details:
I cannot walk so this product is a necessity. I had the 1420 and really liked it. I had it for 13 years and it would pretty much go through anything.
01/10/2019
Strengths:
speed, ease of making turns
Weaknesses:
apparently did not take into account seat back comes down on seat bottom making seat bottom shorter than expected also assumed arms would be longer and should have ordered shorter footplate
Reviewer:
beecher b. from osteen, fl (caregiver)
User Details:
73 yr old male, 470 lbs., unable to walk due to no knees
01/10/2019
Strengths:
speed, ease of making turns
Weaknesses:
apparently did not take into account seat back comes down on seat bottom making seat bottom shorter than expected also assumed arms would be longer and should have ordered shorter foot plate
Reviewer:
beecher b. from osteen, fl (caregiver)
User Details:
73 yr old male, 470 lbs., unable to walk due to no knees