Cloud PR-510 with MaxiComfort
Golden's most comfortable chair featuring an oversized, overstuffed back for the ultimate in relaxation.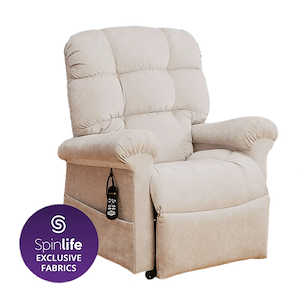 Golden Technologies
(Model No. PR-510)
VIEW ITEM
More Information on the Cloud PR-510 with MaxiComfort
BACK TO TOP
Reviews
Viewing 1 - 12 of 153
Chair is very comfortable and customer service is terrific!!
09/22/2023
Strengths:
It feels very high quality and sturdy and that's what you want in a lift chair, but most of all it is so comfortable. The mechanics are smooth and strong.
Weaknesses:
The only thing I can think of and this is just nitpicking the head rest could be thicker and more fluffy.
Reviewer:
david d. from thomaston, ga
User Details:
I have ms that affects my right side, so I only have my left side to do things.
07/08/2023
Reviewer:
virginia a. from horseheads, ny
User Details:
returned chair because of shipping policy, Never saw the chair
is a great lift chair I would recommend it to anyone
05/24/2023
Reviewer:
karen b. from beach, nd
User Details:
Age 74 knees are bad hard to get out of chairs the lift is a big help the massage is helpfull also
03/30/2023
Strengths:
Nice looking, soft, comfortable, variety of positions
Weaknesses:
wish I would have purchased it years ago
Reviewer:
cheryl c. from hillsboro, or
User Details:
64, multiple disabilities
So far, the chair has been good.
03/23/2023
Strengths:
Comfort and safe transfers by the user.
Weaknesses:
So far, none detected.
Reviewer:
cathy b. from pasadena, md
User Details:
68 year old woman with partial loss of use of left arm, bone on bone left knee, left hip pain, osteopenia, arthritis.
So grateful I purchased this chair
02/03/2023
Strengths:
Sturdy, strong chair. The lift works flawlessly. The chair is so comfortable. Exceeded my expectations. Love the infinite positions - I can adjust chair to where I feel most comfortable.
Reviewer:
kerry h. from washington, dc
User Details:
I am a 365 pound 55 year old man and have difficulties getting up from my existing recliners
Good product and looks well built
11/17/2022
Strengths:
Easy operation and good comfort
Weaknesses:
We ordered two chairs going to two different homes. One showed up as ordered the other came in a different color than we ordered, kept it anyway since it was second choice of color and didn't want the hassle to send it back and truck had already left 
Reviewer:
rachel j. from muncie, in
User Details:
87 female has Parkinson's and difficulty getting up
The best, most comfortable zero gravity lift chair ever!!
09/17/2022
Strengths:
Comfortable, wide enough for my larger body, absolutely perfect!
Weaknesses:
So far I haven't found one
Reviewer:
ralph g. from hegins, pa
User Details:
I have been using a lift chair for years due to arthritis and multiple surgeries. This is absolutely, hands down, the best chair I've ever purchased!
07/14/2022
Reviewer:
betty r. from portland, or
User Details:
Not provided
06/02/2022
Strengths:
custom size fit
Reviewer:
gerald i. from paola, ks (caregiver)
User Details:
57 dementia victim barely ambulatory
Now I can rest and be sure that I do not miss any...
05/31/2022
Strengths:
Many positions, very comfortable
Reviewer:
phyllis t. from lyman, sc
User Details:
72 year old woman with degenerative bone disease other health problems...I could not comfortably sit or lie for long at a time...this chair saved me
Multi-positioning dream chair
05/22/2022
Strengths:
The product allows for many partial positions so that it may be "fine tuned" to each physical need.
Weaknesses:
The seat could be a bit longer for more comfortable upright sitting.
Reviewer:
carolyn d. from cheyenne, wy
User Details:
The user of the chair is elderly and disabled by scoliosis. Comfortable sitting requires partial reclining and partially elevated feet.
Popular Related Products