Cloud PR-510 with MaxiComfort
Golden's most comfortable chair featuring an oversized, overstuffed back for the ultimate in relaxation.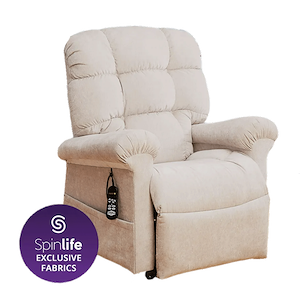 Golden Technologies
(Model No. PR-510)
VIEW ITEM
More Information on the Cloud PR-510 with MaxiComfort
BACK TO TOP
Reviews
Viewing 1 - 7 of 7
07/21/2022
Strengths:
Does not hurt my hands getting up and down because of great padding.
Weaknesses:
Footrest does not go as high as it should
Reviewer:
paulett b. from camp douglas, wi
User Details:
Disabled with arthritis in hips, knees, spinal deterioration.
the back does not come up far enough
01/23/2022
Strengths:
Lovee the height the chair rises and the comfort.
Weaknesses:
The back of the chair is not high enough, nor does it move far enough to the sitting position
Reviewer:
joyce g. from waukee, ia (caregiver)
User Details:
79 year old that has arteritis and very weak legs.
He can't use the chair as it leans to the left.
02/02/2019
Strengths:
Not one thing!
Reviewer:
dan p. from millbank, sd (caregiver)
User Details:
Have Parkinson's. This is his 3rd chair and are very disappointed with it. we are getting no help with this problem. It leans to the left.
I owned 2 previous chairs from spin life that were much...
01/05/2019
Weaknesses:
Very little give and not comfortable to sit in for long periods of time. Makes me ache.
Reviewer:
carla e. from elk city, ok
User Details:
I am a 60 yr old female with back and hip problems that require sitting too much. Chair did not live up to my expectations.
Product good but DO NOT MAKE A MISTAKE WHEN ORDERING or you...
01/15/2018
Strengths:
It lifts him up and down but the length is too short. He needed the leg extension but you cannot get it unless you order it at the time of purchase. So he has a chair that doesn't really work for him
Reviewer:
audrey k. from naples, fl (caregiver)
User Details:
74 year old stroke victim, total paralysis right side.
Same exact chair model feels much different than floor...
06/30/2014
Strengths:
Infinite position. SpinLife customer service has been wonderful in every aspect, and I would highly recommend buying from them over any other retailer!
Weaknesses:
I went to a local healthcare supply retailer 3 times to try out chairs and always felt that this was the most comfortable of all 10 models on display. When I first received the chair I was happy, yet shortly after was uncomfortable as the lumbar support back cushioning was not holding up well. It got very soft and flat within 2 weeks! I now experience back pain. I am awaiting replacement of the back portion of the chair. I just hope that the manufacturer isn't making chairs with better quality for the showroom, and lower quality built and shipped to customers.
Reviewer:
sheila n. from boynton beach, fl
User Details:
72 year old woman with severe back problems due to osteoporosis and radiation. Also recovering from knee replacement.
Cloud PR-510 with MaxiComfort: Review
02/07/2014
Strengths:
More comfortable than last chair , which was bought from you
Weaknesses:
Not smooth when going from lift, will suddenly drop to sitting position
Reviewer:
paul c. from riverside, pa
User Details:
Not provided
Popular Related Products