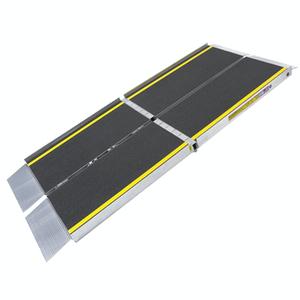 More Information on the Multi Fold Safety Ramp
BACK TO TOP
Reviews
Viewing 1 - 12 of 15
02/17/2016
Weaknesses:
Can't think I found any
Reviewer:
joseph m. from seymour, mo
User Details:
My wife uses scooter, I got ramp so I can push it in and back out of my truck, it's great!
It is perfect for my needs.
10/09/2015
Strengths:
It's portable, although it is heavy, but that gives me a better feeling of security.
Weaknesses:
None that I see so far.
Reviewer:
katherine g. from brewerton, ny
User Details:
I am moving, and I realize I need a ramp, however since I am moving out of town, I can't have one built until after I get there.
10/31/2014
Strengths:
Good engineering and the high quality of manufacturing. This is a solid product which I believe will stand up to use over time. I use the scooter to do local grocery shopping from home. It saves me gas and suffering from severe arthritis. It has been a blessing.
Weaknesses:
No weakness to note. I do think there is a trade off between turning radius and leg room. Perhaps foot rests forward of steering column and above the front wheels would give more leg room.
Reviewer:
paul c. from garden grove, ca
User Details:
I am a 74 year old male with disabling arthritis which limits walking.
12/18/2013
Strengths:
Keeps the back gate of my truck available as opposed to a manual lift.
Weaknesses:
Still heavy and flips open easily despite the velcro patches.
Reviewer:
clifton s. from san antonio, tx (caregiver)
User Details:
This is to load my 92 year old mother's power chair into my pick up truck leaving the gate available.
Multi Fold Safety Ramp: Review
06/13/2013
Reviewer:
john r. from hatfield, pa (caregiver)
User Details:
Not provided
Very useful although we are not moving it from place to...
11/10/2012
Reviewer:
jean m. from grand rapids, mi
User Details:
66 years old. Fractured left ankle, had surgery, and must be non-weight bearing for 8 weeks. Using a knee scooter and using the ramp for entry
Have recommended the product & your company to the...
06/07/2012
Strengths:
Light weight and user friendly.
Reviewer:
wanda m. from madison, al (caregiver)
User Details:
47 year old female good physical condition
INGENIUS IDEA FOR TOTALLY PORTABLE WHEEL CHAIR RAMPS!
01/06/2012
Strengths:
EASY TO TRANSPORT AND REINSTALL AT DIFFERENT LOCATIONS!
Weaknesses:
CAN'T THINK OF ANY.
Reviewer:
veronica l. from slidell, la
User Details:
46 yr old disbled by MS. Ramp makes entrance and egress of family homes possible without need for construction of permanent ramps. INGENIUS!
04/24/2011
Strengths:
Safety and ease of use
Reviewer:
roy k. from taylors, sc (caregiver)
User Details:
My wife had cancer, died April 6th. We never had a chance to use this ramp. It worked great when the nurse and I practiced...very smart product.
take it apart in the middle and make two pieces.
09/27/2010
Strengths:
heavy duty and long enough to get scotter up or down safefully.
Weaknesses:
Heavy for a 150lb women but is do-able.
Reviewer:
carola m. from richwood, oh (caregiver)
User Details:
can't walk to grandchilds ball games, so, now we can take the scooter indoors or outdoors
Great product. Works just as expected.
09/13/2010
Strengths:
Strong, safe, well-constructed.
Weaknesses:
Method of securing ramps when folded could be improved.
Reviewer:
joe h. from abilene, tx
User Details:
75-year-old post polio who uses power chair full-time.
09/08/2010
Strengths:
seems very sturdy when I take my wife up and down it, so she can go sit out back.
Reviewer:
david b. from plain city, ut (caregiver)
User Details:
physical disability