Companion 4-Wheel
This scooter has a 360° rotating seat and a wide deck for plenty of legroom.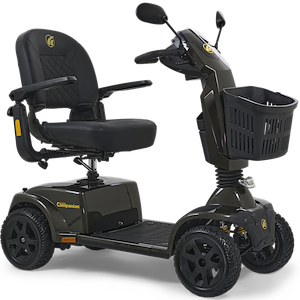 Golden Technologies
(Model No. GC440C)
VIEW ITEM
More Information on the Companion 4-Wheel
BACK TO TOP
Reviews
Viewing 1 - 12 of 18
good scooter for the price-- does the job well, and has all...
07/08/2022
Strengths:
Better ground clearance, than most, still is easy to turn quick, and stops fast. I use this cart daily to feed and take care of the farm animals, Has good speed and battery life, if kept on charge when not using. All around good scooter for my needs.
Weaknesses:
Need a better way to attach front basket.
Reviewer:
kathleen f. from greenville, fl
User Details:
73 yr old female, severe scoliosis, causing weakness in legs.have a farm and use to drive around feeding cattle,alpaca, goats chickens etc.
06/11/2022
Strengths:
Seat Lighting Swivel seat Room
Reviewer:
william t. from hot springs, ar
User Details:
Received it in 5 months but worth the wait! Beautiful scooter! Have added radio.very comfortable!
Great product and feel top of the line. He has had for 3...
06/03/2020
Strengths:
Battery life and quality of product
Weaknesses:
Some folks couldn't afford this. He is fortunate we can afford.
Reviewer:
thomas b. from saint jacob, il (caregiver)
User Details:
My father is 91 years old and has a bad Hip that they cant operate on. He really wanted to get out of the house. This made it possible.
Companion 4-Wheel: Review
01/25/2020
Strengths:
I like that the chair which I chose is 4" off the ground so when I go up and down a curb it works well. I think the seat is comfortable and the floor board is spacious enough for my feet and other things that I want to carry.
Weaknesses:
That you can't hose off the tires when they get dirty or muddy. It was suggested to just use a cup of water. No hose or power washer due to the fact that it could ruin the axle, motor or batteries. Which I understand.
Reviewer:
patricia k. from lockhart, tx
User Details:
I am a 61 year young woman. I have a spinal cord injury from 1976.
This is the best scooter on the market
10/04/2019
Strengths:
How to carry 400 lb
Weaknesses:
It don't have no weakness
Reviewer:
preston f o. from dublin, ga
User Details:
I am 72 years old and I love this scooter so much it really helps me
i am still getting it ready
12/15/2018
Strengths:
the power seat and good wheels
Weaknesses:
power seat could go a little lower
Reviewer:
peter l. from north andover, ma
Love it, but have to have the rear replaced. Squeeky &...
08/09/2017
Strengths:
Ease of use, stability. Hopefully it will last as long as his old one. 10 years and still going.
Weaknesses:
Factory quality control.
Reviewer:
kay f. from omak, wa (caregiver)
User Details:
73 year old male, unable to walk, stand and is in moderate dementia.
06/21/2017
Weaknesses:
Don't know of any.
Reviewer:
bernadette h. from texarkana, tx (caregiver)
User Details:
65 year old cancer patient. Gets around well except in our uneven yard. Had bought a 3 wheel scooter and it turned over, so he got the 4 wheeler.
Because I am unable to walk, it has become my legs.
11/16/2016
Strengths:
I love the chair lift!
Reviewer:
kristy k. from travelers rest, sc
User Details:
I use my new Companion to maintain my yard like watering and pulling weeds. Keep up my barn and taking care of my horses.
10/30/2015
Weaknesses:
Haven't found any yet
Reviewer:
william l. from letohatchee, al
User Details:
75 years old. I don't walk as well as I did 10 years ago
The 4 inch ground clearance is good for the round curbs...
10/02/2015
Strengths:
It seems to be well-made. It's still new but if it holds up I'll be satisfied with my purchase. The quality is apparent.
Weaknesses:
I haven't had it long enough to find any if they exist.
Reviewer:
carl w. from porterville, ca
User Details:
88 year old with a bad knee that can cause a fall if I'm not holding on to something.
08/31/2015
Reviewer:
sharon s. from marysville, oh (caregiver)
User Details:
We have had the scooter about two months. My husband is very much please with it and enjoys riding each day.