Companion 4-Wheel
This scooter has a 360° rotating seat and a wide deck for plenty of legroom.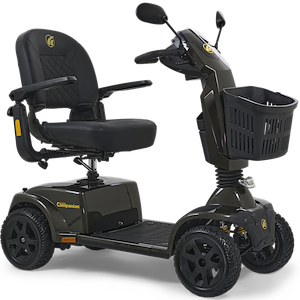 Golden Technologies
(Model No. GC440C)
VIEW ITEM
More Information on the Companion 4-Wheel
BACK TO TOP
Reviews
Viewing 1 - 5 of 5
I would recommend the Companion scooter. It meets my...
07/05/2019
Strengths:
It's sturdy, it's beautiful. Love the mirrors and the option of adding the elevated seat.
Weaknesses:
Not enough turning radius for the front wheels which makes it hard to turn in small areas. Safety issue is a little much with the seat having to be at a certain level before you can move or ride the scooter. The level to swivel the seat is hard to lift.
Reviewer:
cecelia m. from kanopolis, nc
User Details:
I was diagnosed with polymyocytis which is a muscle weakness. I'm 64 years old and it is difficult for me to get up from low places or walk too far.
Not quite what was expected.
06/07/2018
Strengths:
This review is for the warranty replacement. Fast, stable on level surface, good battery life, lots of leg-room, excellent ground clearance.
Weaknesses:
Requires arm strength to use because it can be hard to steer it. It has a wider turning radius than I was expecting.
Reviewer:
nancy n. from sleepy eye, mn
User Details:
Female, 71, limited walking ability.
Not a bad vehicle to get around but a little big for me as...
01/26/2018
Strengths:
Does not tip over like my 3-wheel scooter. Climbs steep hills easily.
Reviewer:
walter h. from scottsdale, az
User Details:
Arthritis in feet, knees, hips, and hands. 90 years old and getting weaker. Difficulties with steering, wish the steering wheel were wider.
06/16/2017
Strengths:
Electric seat rise.
Weaknesses:
Large turning radius, small shopping basket, you can not reach a rear basket fixed to seat without exiting scooter.
Reviewer:
lexa k. from del rio, tn
User Details:
Senior, overweight woman with limited knee cartilage.
It seems to fill our need.
06/22/2013
Weaknesses:
None that could not be anticipated.
Reviewer:
mary l. from morrisville, vt
User Details:
The unit is shared by my husband and me. We are both in our late 80's and have serious problems with balance.