Companion 3-Wheel Scooter
This scooter has a 360° rotating seat, lots of legroom and up to 20.9 miles per charge.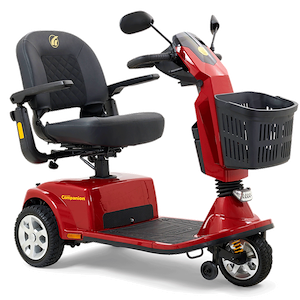 Golden Technologies
(Model No. GC340C)
VIEW ITEM
More Information on the Companion 3-Wheel Scooter
BACK TO TOP
Reviews
Viewing 1 - 7 of 7
It appears that the unit will do what I had hoped
05/26/2020
Strengths:
power to run on grass and pull slopes
Reviewer:
joe w. from hartwell, ga
User Details:
I am the user. I'm 82 years of age and wear a brace from contracting polio when a child
Second companion from Golden.
06/23/2019
Strengths:
Biggest for me is the weight limit and the flat foot space for my feet as it is painful to bend my legs.
Weaknesses:
Wish there was just a bit more space to slide the seat backwards.
Reviewer:
jim b. from branson west, mo
User Details:
71 year old,not able to walk a short distance without a walker, same as standing. Disabled vet,340 pounds.
Companion 3-Wheel Scooter: Review
10/27/2017
Strengths:
Looks, price, ease of mounting, ease of driving. Exceptional power seat.
Weaknesses:
Missing non-tipping wheels in front. A bump or coming up against a door jam can make it tip. The seat does not support the lower back without an additional cushion.
Reviewer:
janet f. from north hollywood, ca
User Details:
Disabled senior, 84, female.
Companion 3-Wheel Scooter: Review
09/15/2017
Strengths:
Easy to get on and off. Steers great and short turning radius, leg room, good appearance
Weaknesses:
Hard ride! Takes every bump in the road like a "buck-board."
Reviewer:
paul s. from york, pa
User Details:
I am 74 years old. A post polio. Been using scooter since 1999. Presently use scooter for all activities in and out of the home.
08/27/2016
Strengths:
speed, adjustable tiller, good leg space
Weaknesses:
swivel control hard to reach, heavy weight on rear of scooter causes lift to tilt
Reviewer:
kay s. from san antonio, tx
User Details:
Severe back problems, limited ability to stand/walk
Useful item for those with mobility problems.
10/30/2015
Strengths:
Sturdily built, many features that help with the operations, such as swivel seat, lights, horn, ease of steering, large wheels.
Weaknesses:
It can't be helped but I wish it wasn't so heavy. I would like to know how much this model weighs.
Reviewer:
anna s. from lawrence, ks (caregiver)
User Details:
Mobility is limited due to diabetic neuropathy. The legs are especially affected. User is large, 6'5", and weighs over 320 lbs.
Shipping very unsatisfactory and very costly to me
08/31/2014
Strengths:
Maneuverability
Weaknesses:
Charger not easy to connect. Tail lights should be on a separate switch from Head light.
Reviewer:
wayne c. from sublimity, or
User Details:
86...crippled