Silver Sport Reclining
Enjoy infinite adjustments with this hydraulic reclining mechanism.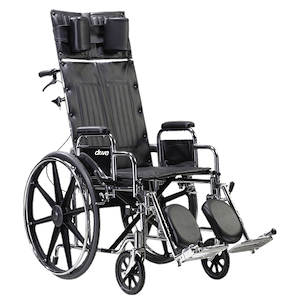 Drive Medical
(Model No. SILVERSPORT)
VIEW ITEM
More Information on the Silver Sport Reclining
BACK TO TOP
Reviews
Viewing 1 - 7 of 7
Good wheelchair with upper back support
05/26/2022
Strengths:
Tilt back mechanism works well
Weaknesses:
It is narrower and heavier than we expected
Reviewer:
donald s. from sunnyvale, ca (caregiver)
User Details:
85 yr old male with muscle weakness from illness
05/26/2017
Strengths:
comfortable with extra padding
Weaknesses:
Too hard to move by hand. Hard to position for critical moves. Needs anterior tilt.
Reviewer:
mark n. from woodruff, wi
User Details:
I have PPMS and walking,standing and strength to sit are next to none.
11/11/2016
Weaknesses:
none I am aware of
Reviewer:
terry w. from decatur, al (caregiver)
User Details:
Can't walk, 95 yrs old, has dementia, overweight (205 lbs), severe arthritis, female, otherwise, she is healthy.
It is ok, at least my aunt is a bit more comfy
02/28/2016
Strengths:
Fair enough chair
Weaknesses:
The plastic/canvas of the back rest is not very strong
Reviewer:
ramiro c. from benicia, ca (caregiver)
User Details:
82 years of age and suffers from Alhzeimer. Currently living in a care facility in Calif
Silver Sport Reclining: Review
02/24/2014
Strengths:
Light wt. able to recline
Weaknesses:
Very hard to open from folded position. Does not have a foot bar on back to help caregiver tip front wheels up when coming to a bump such as flooring to carpet.
Reviewer:
kim e. from henderson, ky (caregiver)
User Details:
88 year old..with bone cancer
10/30/2013
Strengths:
Size, ease of collapse, free wheeling
Weaknesses:
Leg rests too far apart, back support bar and dials, caps don't stay on tip up legs in rear, brake handles fragile and too easily pulled outward rather than down, no additional separate double foot support
Reviewer:
hugh d. from cranford, nj (caregiver)
Silver Sport Reclining: Review
08/14/2010
Reviewer:
carole m. from palm springs, ca (caregiver)
User Details:
Not provided