Bellavita
At 20.5 pounds, the Bellavita is not only the lightest bath lift on the market, but with a minimum position of 2.3" the Bellavita is also the lowest!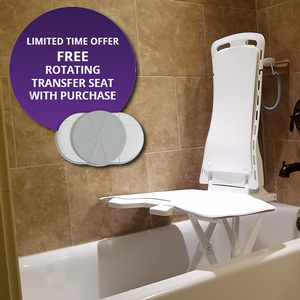 Drive Medical
(Model No. 477200252)
VIEW ITEM
More Information on the Bellavita
BACK TO TOP
Discontinued
This product is either discontinued by the manufacturer, or no longer available at SpinLife.com.
We recommend the Bellavita Dive by Drive Medical. Features are very similar to the Bellavita and it can ship in 1-2 Business Days .
The Bellavita Dive by Drive Medical
VIEW ITEM
If you need help choosing, please call our ProductExperts at 1-800-850-0335.
Need a Manual?
Reviews
Viewing 1 - 7 of 7
Works well in narrow bathroom.
10/04/2020
Strengths:
Adjustability. Will probably not use for lowering in tub Good for those who need that.
Weaknesses:
Wonder about use with those of higher weight
Reviewer:
barbara m m. from munster, in
User Details:
90 year old Scoliosis and ankylosing spondylitis On crutches and scooter
The seat itself could be wider/larger
09/17/2020
Strengths:
The ability to submerge into tub
Weaknesses:
The seat itself could be wider to accommodate comfort of sitting
Reviewer:
paula b. from upper marlboro, md (caregiver)
User Details:
Cerebral Palsy non ambulatory, minimal transfer ability
It is better than nothing
05/12/2016
Strengths:
Strong enough to hold 250 lbs.
Weaknesses:
Too large and cumbersome .
Reviewer:
john s. from zion, il
User Details:
It's very helpful to be able to sit down. The only problem is, once the chair is in, there is no room left in the tub for anything else.
10/20/2014
Strengths:
Lowers her smoothly into tub.
Weaknesses:
Doesn't lower her deep enough into water. Knees still stick out of water and are cold, because seat has to be so far forward in tub in order to have enough room behind to recline. She wants to get warm with a deep hot bath. This didn't work. If we had the option to return it, we would.
Reviewer:
jennie g. from lexington, va (caregiver)
User Details:
91 year old mother, weak and unable to lower herself into tub.
I like the quality of the product. It is only missing one...
04/08/2014
Strengths:
The product is easy to use and reliable... easy to remove from the tub for cleaning or transporting
Weaknesses:
I feel the product could use safety harnesses, because if the person does not have any control of their legs it is easy to slide off the seat into the tub.
Reviewer:
ginger c. from max meadows, va (caregiver)
User Details:
My son is almost 15 and has CP with spastic diplegia... relies on a wheelchair for mobility
09/28/2012
Weaknesses:
No symbols or lettering on the hand control to indicate which button does what. Very confusing to my parents who are in their 90's who I purchased the product for.
Reviewer:
donna c. from batavia, oh
User Details:
Not provided
It does the job as advertised
11/16/2011
Weaknesses:
The instruction books are 90% warnings and short on application. No mention of battery life between charges.
Reviewer:
bernd f. from fort worth, tx (caregiver)
User Details:
80 years, arthritis
Popular Related Products