The Spa Lift Ultra
Best price and value with 360º manual rotation.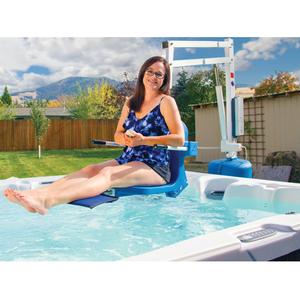 More Information on the The Spa Lift Ultra
BACK TO TOP
Reviews
Viewing 1 - 1 of 1
Gets me in my spa where I could no longer get in or out of...
10/26/2013
Strengths:
Sturdy, fairly simple install on a deck.
Weaknesses:
Very slow both up and down. My tub is outside so I can get chilled by the time I reach my wheelchair. To save money I bought the cheaper model that only powers up and down. I use a rope to pull myself from the chair to the tub. That works fine.
Reviewer:
jeff p. from green bay, wi
User Details:
T_10 complete para. 65 years old.