Comet 352 w/ Removable Desk Arms
With many of the same features as the Comet 330, the Comet 352 also boasts detachable armrests and a quick-release folding back for added convenience.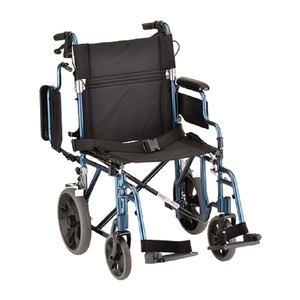 More Information on the Comet 352 w/ Removable Desk Arms
BACK TO TOP
Reviews
Viewing 1 - 1 of 1
I would recommend it with reservations.
01/30/2008
Strengths:
It's lightweight. The hand brakes are easier to use then the lower brakes. It's smaller than average size is a plus for narrow spaces.
Weaknesses:
The lower brake handles stick out 2 inches further than the chair and cause problems in very narrow spaces. Add 4 inches to the width if you're calculating for space requirements. It is also difficult to reopen the chair once closed.
Reviewer:
mary k. from pittsfield, ma (caregiver)
User Details:
The user of this product is an 88 year old woman with extreme joint deterioration from arthritis.