LTV Seat
Available in one standard size and is great for providing additional support and padding in a scooter, car, plane or chair.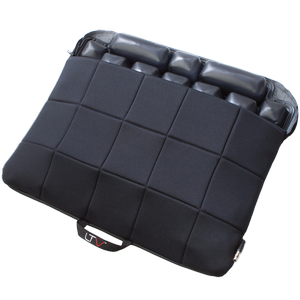 More Information on the LTV Seat
BACK TO TOP
Reviews
Viewing 1 - 8 of 8
07/24/2019
Strengths:
Excellent but could use a way for fastening it to the Go-Go to make it solid.
Reviewer:
william m. from arlington hgts, il
User Details:
I lost a lot of weight leaving me with loose skin on my butt. My activities of movement/friction caused a wound on my butt. The cushion reduced presur
Didn't meet expectations for making my chair more...
01/05/2013
Strengths:
Product is well made. Spinlife seems to be a good company with good customer service.
Weaknesses:
Not nearly enough cushioning support. Product air chambers need to be wider. Product's outer cloth cover has an uncomfortable texture that can be felt even while fully clothed. Air pump design could be improved.
Reviewer:
david s. from santa barbara, ca
User Details:
56, male, no disabilities, 6 foot, 175 pounds
09/02/2009
Strengths:
thin, good quality cover
Weaknesses:
Could have come in a smaller size to fit the seat in my car. Not a deal breaker.
Reviewer:
douglas s. from plymouth, mn
User Details:
use in the car following surgery where pressure is 'bad' for healing.
01/22/2009
Reviewer:
michael s. from dayton, oh
User Details:
Not provided
06/05/2008
Reviewer:
dale h. from murfreesboro, tn
User Details:
Not provided
good product too thin for our use
05/01/2008
Strengths:
Good construction, good quality
Weaknesses:
We found the product to be too thin and my son would bottom out on it, thus not giving much protection and/or comfort. He is tall and thin and we felt it should ahve supported him better.
Reviewer:
danny c. from dixon, ca (caregiver)
User Details:
The user is my son, a T-2 para. He is six feet tall & 125 lbs. Active & driving
Doesn't provide enough support for user
03/31/2008
Strengths:
Removable cover, fits the size of the chair, easy to use the inflator for the caregiver, not the user, once you figure it out.
Weaknesses:
Not dense enough to provide support to butt. This is the main reason I bought it. It also doesn't hold the inflate. Have to keep refilling.
Reviewer:
linda g. from shamong, nj (caregiver)
User Details:
Not provided
Thcushion effect is not great enough to help my hip.
12/22/2007
Strengths:
Lightweight, portable
Weaknesses:
Not thick or cushiony enough.
Reviewer:
gail g. from saylorsburg, pa
User Details:
Not provided
Popular Related Products
Diestco WeatherBee Standard Scooter Cover