AL301XL Fusion Power Chair and Scooter
With front and rear adjustable wheel cradles this platform can accommodate mobility products with up to a 48" wheelbase.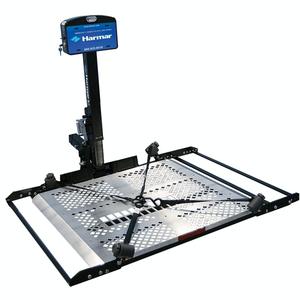 More Information on the AL301XL Fusion Power Chair and Scooter
BACK TO TOP
Reviews
Viewing 1 - 4 of 4
Wish it had hold down bar
01/30/2020
Strengths:
I can use it with no help
Weaknesses:
Tie down straps are to slow when it is raining
Reviewer:
michael h. from dallas, ga
User Details:
Not provided
I had to have the latches changed for ease in attaching
01/16/2019
Strengths:
Powerful motor
Reviewer:
lauren c. from griffin, ga
User Details:
Age 82 male unable to walk
Great product with limitations
07/11/2015
Strengths:
Built to last for a long, long time.
Weaknesses:
Not a product for self-installation unless you have complete mobility and are willing to crawl around under your vehicle. Not a product that you would install to use and then remove when you did not need it. Its extremely heavy and in the case of a pickup truck where its common for the rear of the vehicle to be somewhat higher than the front it can be an absolute nightmare to attach it to the trailer hitch due to the weight. If your physically capable of dealing with 200+lbs of dead weight or if you are going to install it and leave it attached to your vehicle full time, then this is a great product.
Reviewer:
michael d. from granbury, tx
User Details:
This product is used by a 66 year old male with back and leg issues.
AL301XL Fusion Power Chair and Scooter: Review
10/14/2009
Weaknesses:
ONLY ONE BOLT, WHICH IS A GRADE FIVE CAP SCREW SUPPORTING THE WHOLE WEIGHT OF THE LIFT AND THE CHAIR. SEEMS LIKE IT SHOULD HAVE A BETTER BOLT FOR THIS. ALSO WHEN THE CHAIR IS ON THE LIFT, THE LICENSE PLATE CAN NOT BE SEEN. THE TOWER IS NOT HIGH ENOUGH! NEED A BRACKET TO KEEP IT UP EVEN HIGHER.
Reviewer:
daniel e. from murfreesboro, tn (caregiver)
User Details:
Not provided