Tracer SX5
Has 20" and 22" seat widths with a 300 lb. weight capacity to accommodate more users.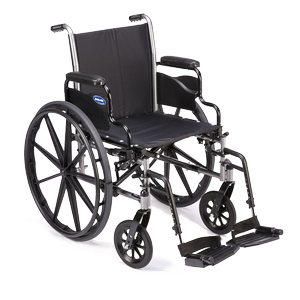 More Information on the Tracer SX5
BACK TO TOP
Reviews
Viewing 1 - 4 of 4
04/10/2022
Strengths:
Build heavy, should last a long time
Weaknesses:
Way too heavy for older people, should measure your door ways in your home, because it is on the wide side
Reviewer:
thomas m. from cox's creek, ky (caregiver)
User Details:
Amputee of right leg below knee
Tracer SX5- Standard: Review
03/06/2021
Strengths:
It gets me around
Reviewer:
john p. from walsenberg, co
User Details:
I would'nt say I love it because who in their right mind wants to be in a wheelchair. The product serves it's purpose.
Not happy with my purchase.
05/22/2015
Weaknesses:
Brakes are much harder to put on and remove. Armrests are okay until you push them backward and then the part that inserts making them sturdy, sticks out about two inches into your back, making it very uncomfortable
Reviewer:
christine s. from hanford, ca
User Details:
Post-Polio victim
This wheelchair is rebuilt. I assumed I was buying a new...
01/16/2015
Weaknesses:
I thought I was buying a new wheelchair like the one we have up north. You sold us a rebuilt wheelchair. I am very disappointed.
Reviewer:
marilyn h. from naples, fl (caregiver)
User Details:
He is a man who cannot stand or walk without assistance. Wheelchair-bound at this time. Hopefully, physical therapy will help him improve his conditio