Heritage Heavy Duty LC-358XXL 2-Position
The only 2-position lift chair available with a 600 lb. weight capacity and 30" wide seat.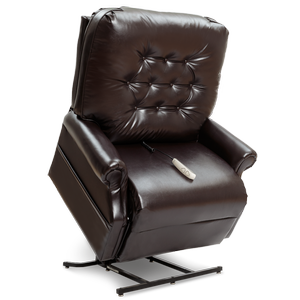 More Information on the Heritage Heavy Duty LC-358XXL 2-Position
BACK TO TOP
Reviews
Viewing 1 - 10 of 10
Our rural location caused numerous problems when one of the...
09/24/2018
Strengths:
The lift mechanism is very helpful and the large size of the chair is perfect for my very tall husband.
Weaknesses:
One recliner does not recline as far as the other one and makes a horrendous noise. The vinyl upholstery stretches and does not lay smooth. The foam on the seat of the chair is already starting to flatten in spite of the fact we are not near the weight limit of the chairs.
Reviewer:
patricia c. from libby, mt
User Details:
Disabled couple needing lift assistance for getting up.
Does not recline back far enough
03/27/2017
Strengths:
Is good for a larger person
Weaknesses:
Doesn't recline far enough, foot rest and arm rest need more padding.
Reviewer:
james e. from johnson city, tn
User Details:
Age 63 with limited mobility , bad back . hard to get up from a sitting position .
#4 I would suggest people really consider what their needs...
10/07/2016
Strengths:
The chair is okay. I wish I would have considered something else. The service company, ReMobilizers are lovely and it has been nice working with them. I also like the people at SpinLife. Very nice and friendly.
Weaknesses:
I personally think this chair is not durable. It wobbles and for a large chair. I don't think it should shake so easily. I have also wondered how long I have on the extra warranty I purchased. It is a new chair and not sure. I suspect I will need the warranty. Thanks
Reviewer:
irene k. from oakland, ca
User Details:
I had to get a lift chair while rehabilitation is taking place.
04/14/2016
Strengths:
very quiet when lowering and rising. Fabric is nice. I got the ultra. Very convenient to have a usb attached to controls, however, the controls light stays on 24/7 and it is very bright. Frame seems very solid.
Weaknesses:
It is difficult to get into. You have to then adjust your butt when you raise the recline. Depth is too large for an average height person. The back always feels as if is leaning back. I have to put a pillow behind me.
Reviewer:
linda v. from racine, wi
User Details:
Male 520# 5'10" BILATERAL LYMPHEDEMA AND VENOUS INSUFFICIENCY
Quality but not meant for some
01/21/2016
Weaknesses:
Too large of a seat and too tall. I have to jump in order to get all the way back, then wiggle back. The chair back leans too far back as well - never an upright position (in my opinion)
Reviewer:
linda v. from racine, wi
User Details:
Morbidly obese person who has severe lymphedema. Sits 18-20 hours daily in the recliner.
There are some flaws in chairs' covering quality, but...
09/10/2015
Strengths:
It has a solidly built lift mechanism; it works great every time. It has a fine warranty and we experienced good customer service follow-up.
Weaknesses:
It has very poor quality flaws concerning the chairs' covering material; mine was peeling off and hanging in tatters after two years... I had expected that it would be looking good far longer than this. The company would do well to beef up the quality fabrics in this area.
Reviewer:
lauren k. from sterling, va (caregiver)
User Details:
The user of the product is my father Ed, who is 65 and disabled. He lives alone and is the sole user of the chair.
Heritage Heavy Duty LC-358XXL 2-Position: Review
09/03/2015
Strengths:
Purchased because of the weight capacity
Weaknesses:
Initially the chair did not work. Had to have someone fix immediately
Reviewer:
amy w. from buckeye, az (caregiver)
User Details:
Limited mobility
first chair bought in february 3 mths to replace
07/15/2013
Weaknesses:
frame not built to withstand weight that it is supposed to be built for, lifts are not powerful enough for same above
Reviewer:
mark m. from grand rivers, ky
User Details:
male 49 yrs old diabetes, 9 spinal spurs
Heritage Heavy Duty LC-358XXL 2-Position: Review
08/27/2008
Reviewer:
robert m. from severn, md
User Details:
Not provided
05/23/2008
Weaknesses:
dose not recline very well
Reviewer:
kendall n. from axtell, ne
User Details:
Not provided
Popular Related Products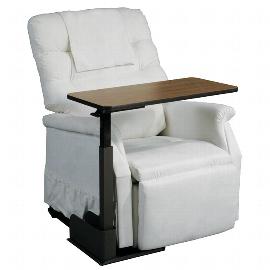 Lift Chair Table