Legend 3-Wheel
Fully loaded scooter that epitomizes class and elegance.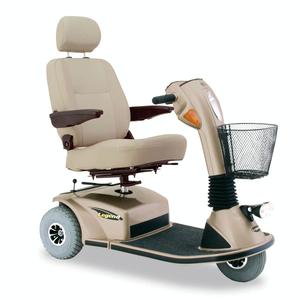 More Information on the Legend 3-Wheel
BACK TO TOP
Discontinued
This product is either discontinued by the manufacturer, or no longer available at SpinLife.com.
To find a comparable product at SpinLife.com, please
click here
or call our ProductExperts at 1-800-850-0335.
Need a Manual?
Reviews
Viewing 1 - 12 of 42
11/29/2010
Strengths:
it's easy to maneuver and handles well.
Weaknesses:
the controls are underneath and causes some wrist soreness
Reviewer:
kim a. from austin, mn
User Details:
I am a 64 yr. old female. I have been disabled for 9 years. I have charcos in my left foot, and also have two compressed discs in my back.
Will never beat the value for the price any where
02/06/2010
Strengths:
10 x 4 inch tires-Solid tires no flats The great ride- comfort- ease of handeling. I rate it at 110 percent can not be beat.
Weaknesses:
I feel the product is best and I do not see any weaknesses
Reviewer:
donald b. from ewen, mi
User Details:
I have Muscular Dystrophy-Wheel Chair bound-67 yrs old. Travel the local roads constantly visiting friends in warm weather.
strong, engineered construction that is easy to operate.
01/22/2010
Strengths:
This scooter is easy to assemble and disassemble. It fits easily in the back of our Honda CRV.
Weaknesses:
I made a wooden chock to raise and elevate the motor section so that I could stabilize the front one wheel section when attaching the grooves in the plates onto the pins.
Reviewer:
thomas g. from bremerton, wa (caregiver)
User Details:
61 year old woman who can't walk for an extended period of time.
easy to use, good looking, doesn't take up much room
01/20/2010
Strengths:
ease of use, compact size, with a lot of get up and go
Weaknesses:
the tortise setting is fast enough for me, I have been hesitant to try the rabbit setting of speed.
Reviewer:
sally d. from irvine, ca
User Details:
severe arthritis, bad knees/hips
Very good scooter so far.
11/08/2009
Strengths:
Stengths are range/battery life. Terrific for getting around town without worrying about a re-charge. The suspension also makes for a smooth ride. The seat is very comfortable and the lights make it very visible when rolling around the neighborhood in the dark.
Weaknesses:
Weaknesses are few. It is a bit wider than my old scooter so indoor manouvering is tricky. The tiller adjustment is also not user friendly.
Reviewer:
didier t. from north bethesda, md
User Details:
I have FSH Mucular Dystrophy and can no longer walk, but still remain very independent.
09/19/2009
Strengths:
It's ability to help keep me independant and able to do the things I want to do even while travelling.
Reviewer:
rebecca a. from denver, co
User Details:
I am 55 years old and had a spinal cord injury at age 14 and have been gradually loosing mobility. My Legend 3 has given me the ability to travel more
unexpectedly good value for the money
09/04/2009
Strengths:
Attractive, convenient, well equiped with lights and safety devices,comfortable adjustable seat and console. The whole seat can turn to the side 90 degrees for ease of entry and exit. The floor is large enough to carry two large grocery bags (without decreasing speed). I have driven it 5 miles without noticable loss of battery power or speed EVEN ON HILLS. tHANK YOU FOR MAKING IT SO PRETTY. i LOVE ALL THE LIGHTS, TURNING SIGNALS, AND 4-WAY FLASHERS.
Weaknesses:
I WISH i COULD PLUG IT IN OR UNPLUG IT WITHOUT STANDING UP. cOULD YOU HAVE PUT THE OUTLET WHERE IT COULD BE REACHED FROM THE SEAT?? tHAT'S THE ONLY FLAW, IN MY OPINION.
Reviewer:
david b. from tigard, or
User Details:
I am an 85 year old widow unable to walk as much as half a block or drive my car. Now I can go to a store and a near -by mall and visit my neighbors.
minor flaws in fit & finish area
08/16/2009
Strengths:
Great comfort, good ride, easy to use, easy to break down for transport, good speed levels, and good battery life range.
Weaknesses:
Found none as of yet,
Reviewer:
jerome h. from ellsworth, wi
User Details:
62 year old, with limited walking ability, due to 41 years of joint and disc problems.
07/10/2009
Strengths:
It's simple and easy to use.
Weaknesses:
The purchase process was long. To much paperwork trying to get Social Security to pay for something he did not qualify to purchase. If it had been known Social Security would not cover outside use we would not have tried.
Reviewer:
dan w. from centralia, wa (caregiver)
User Details:
We purchased the scooter for our son, who has Cerebal Palsey. It has given him the extra mobility he was not able to access with a 3 wheel bicycle.
Overall a very quality product for the price.
05/28/2009
Strengths:
The overall quality of the Legend and knowing there is good support from mfg. I feel that Customer Service is just as important as the quality of the product.
Weaknesses:
I do not like the placement of the light switches and the horn. If you need to rest anything on the top on the tiller, the horn blows and the lights flash on and off. This disturbs other people around you. There is no reason these switches could not be placed on the back of the unit facing the user and not on the top.
Reviewer:
geraldine l. s. from debary, fl
User Details:
I am a 76 year old woman with hip and lower back problems that make me unable to walk more than a few feet. This scooter gives me freedom.
Takes me in, through, out, and around my villa with ease.
05/01/2009
Strengths:
Turning radius, climbing ability, compact size, ease of charging, optional powered seat
Weaknesses:
Just placement of the horn and throttle. They are relatively easy to lean on and engage. And no champagne or beige seat in the shorter style.
Reviewer:
karen w. from plymouth, mn
User Details:
55 yr old female with advanced MS, live on a hilly island, and have rooms in separate bungalows.
It fits my needs quite nicely.
04/25/2009
Strengths:
I'm not quite sure how to respond to this. The scooter gets me around nicely and is easier to maneuver inside the apartment building than was my old one.
Weaknesses:
I owned a Pride scooter some years ago and was quite happy with it. I imagine that this one will do as well. I know of no obvious weaknesses. The fit and finish are excellent in my opinion.
Reviewer:
delmar o. from seattle, wa
User Details:
Born 1932, retired, single, overweight, Charcot's foot (something I would wish on my worst enemy) and unable to get around without some help.