Comfort-Mate Extra
High density, highly resilient foam is durable and great for frequent transfers because it won't break down.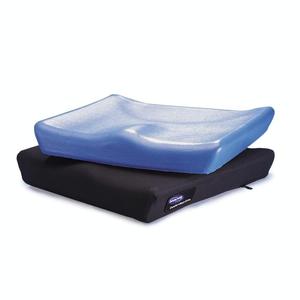 More Information on the Comfort-Mate Extra
BACK TO TOP
Reviews
Viewing 1 - 12 of 14
Excellent in all respects.
06/04/2015
Strengths:
The sturdiness of the rubber.
Reviewer:
kathryn h. from boulder city, nv
User Details:
Can no longer walk so I need an electric wheelchair for getting around. The wheelchair pad is perfect and very comfortable. The price is very reasonab
Very comfortable cushion.
12/25/2014
Strengths:
The thickness of cushion is only 2" which I really like because of my height. Makes it much easier for my short legs to get me up in chair. Also I like the contours for legs and butt.
Weaknesses:
Very strong chemical smell when new. Needed to take the cover off of the cushion and let it air out.
Reviewer:
sandra n. from manitowoc, wi
User Details:
I have MS and have been in a wheelchair for 5 yrs. I'm female and going to be 64. I'm only 4' 11" and weigh about 130lbs.
07/31/2010
Strengths:
Comfort, comfort, comfort! I love that the cover can be washed.
Weaknesses:
haven't discovered any
Reviewer:
pamela g. from chatham, il
User Details:
I am 53 with MS and athritis. Before I bought the new chair and cushion I also had sciatica pain. I love the new cushion.
06/25/2010
Strengths:
very comfortable
Weaknesses:
nothing to fasten it down
Reviewer:
lee o. from hudson, wi
User Details:
Not provided
Excellent quality and shipment was speedy. Thanks!
04/23/2010
Strengths:
Very sturdy product and easy to keep clean.
Reviewer:
vernon g. from marshall, mn (caregiver)
User Details:
Both legs amputated, on Kidney dialysis, and sight loss
Comfort-Mate Extra: Review
04/05/2010
Strengths:
Very durable and comfortable
Reviewer:
john h. from mesquite, nv (caregiver)
User Details:
85 years old, ubable to walk
10/05/2009
Strengths:
Quality of materials
Weaknesses:
Not at this time
Reviewer:
kim s. from lowell, ar
User Details:
42 yr old, female, para physical disability, 100% use of wheelchair.
It really does what it should.
08/06/2009
Strengths:
For us who have difficulty sitting down, It really helps.
Reviewer:
charles w. from roseville, ca (caregiver)
User Details:
Birthday gift for an 91 year old male. He has difficulty walking and was having trouble sitting down for a long period of time. He really enjoys it.
I live in a nursing center and have referred this to others...
07/09/2009
Strengths:
It is durable. It is light enough to transport and use on other chairs. The size is great, color. It helps maintain posture and erect siting. Your back and hips are kept in allignment due to it construction.
Weaknesses:
It is too costly for most seniors. The three cushions I bought recently were twice what I paid in 1999. I was introduced to cushion by the Rehab therapists at Mount Saint Vincent, Seattle. Thank You.
Reviewer:
maryclare b. from seattle, wa
User Details:
I have used this brand cushion since 1998. It keeps its form, texture, size exceedingly well. After 10 years it still looks new.Cost went up.
09/05/2007
Strengths:
Very, very comfortable. He hasn't had any complaints of his backside or lower back hurting at all. Unlike last year....
Weaknesses:
Haven't come across anything yet.
Reviewer:
gloria s. from lake havasu city, az (caregiver)
User Details:
My son has a bone disorder and has had many surgeries on his legs.
04/13/2007
Strengths:
Easy to clean and very comfortable for the user.
Reviewer:
carmen p. from duluth, ga (caregiver)
User Details:
88 y.o. female with dementia, limited mobility. She needed a wheelchair cushion that would help prohibit decubitus ulcers from forming.
Would like to see it last longer than 3 months.
12/14/2006
Strengths:
I am able to set in my power chair all day until it starts to break down. That is why I keep buying it.
Weaknesses:
The weakness is the fact it will break down after about 3 months and flatten out so I can't set on it no longer than about 2 hours at a time. This is about the 9th. cushion I have purchased.
Reviewer:
franklin w. from glen burnie, md
User Details:
I am 73yrs. old, paralyzed on complete left side and can not stand at all.