Jay Basic
Jay's entry level contoured cushion is a cost effective solution for pressure redistribution and stability.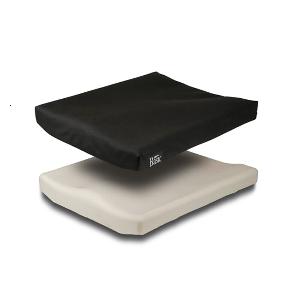 More Information on the Jay Basic
BACK TO TOP
Reviews
Viewing 1 - 12 of 13
12/07/2019
Strengths:
Appearance of quality.
Weaknesses:
Lack of material strength.
Reviewer:
norbert h. from jim thorpe, pa
User Details:
Seat cushion surface is somewhat slippery causing me to slide forward when using my legs to propell me. Also cushion is very thin and I can feel chait
Wish it had a better cushion cover.
05/14/2019
Strengths:
Great comfort and good everyday foam cushion.
Weaknesses:
Cushion cover isn't on par with cushion itself.
Reviewer:
thomas c. from peckville, pa
User Details:
. A good light weight everyday foam cushion. Only flaw is cushion cover started to pill and look crummy after only one week of use.
Cushion is not what I expected.
12/14/2016
Strengths:
I can't think of one. Very uncomfortable. You get what you pay for.
Weaknesses:
It is what it is, basic. I should have shopped around. I think it's just too thin.
Reviewer:
walter h. from newport, nh
User Details:
48 year old male medical issues sensory ataxia, abnormal gait.
11/06/2016
Reviewer:
deborah k. from yellville, ar
User Details:
ZIPPER DOESN'T PERFORM WELL. WILL NOT COMPLETE COURSE NEAR END OF RUN. CUSHION SEEMS GOOD BUT NOT USED,YET. PRICE HIGH COMPARED TO SIMILAR ONES.
11/05/2016
Weaknesses:
Softens in time
Reviewer:
ervin j. from pontiac, mi
User Details:
I'm the user of the product with MS or what is commonly called Multiple Sclerosis b/c I am in a wheel chair both manual and mostly using a power chai
07/13/2016
Strengths:
The cover is good. It allows you to slide into the seat without danger. Some are too slippery and some don't allow you to slide at all. When you do transfers, you need to slide a bit.
Weaknesses:
Doesn't hold its shape. Flattens into next to nothing so you have no cushion.
Reviewer:
kristann b. from valley center, ks
User Details:
69 year wheelchair bound woman.
Should have ordered thicker one
04/21/2016
Weaknesses:
Not holding up...getting thin
Reviewer:
della m. from easley, sc (caregiver)
User Details:
93 yr old mom who weighs 103. We got this for her to use on our couch. It is not holding up. She had gotten another one from my brother which did.
07/12/2013
Weaknesses:
on lower end, there are better cushions
Reviewer:
kenneth b. from mandeville, la
User Details:
48, paraplegic
08/28/2009
Weaknesses:
quality is fine for the price.
Reviewer:
walter b. from manhattan beach, ca (caregiver)
User Details:
76 year old woman with Parkinson's
06/05/2008
Reviewer:
john s. from muncie, in
User Details:
Not provided
12/13/2007
Strengths:
density of the foam
Reviewer:
walter n. from hot springs, ar (caregiver)
User Details:
86 year old female with dementia and arthritic knees
06/07/2007
Reviewer:
joan k. from novato, ca
User Details:
Not provided