Jay J2 Recline
Only cushion specifically made for those in a tilt or recline chair.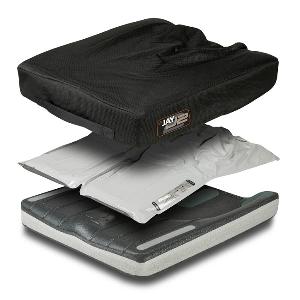 Sunrise/ JAY
(Model No. J2 RECLINE)
VIEW ITEM
More Information on the Jay J2 Recline
BACK TO TOP
Reviews
Viewing 1 - 6 of 6
02/28/2021
Strengths:
Causes less pain on my bottom Good quality front slightly higher than back with a ridge which is helpful for tilt wheelchair Cut out for tailbone and gel in back helps when reclining backward More comfortable than old air cushion
Weaknesses:
Have to be position just right to hit the cutout for tailbone and correct positioning Hard and firm High cost
Reviewer:
annette k. from frostburg, md
User Details:
ALS warrior confined to a F3 Permobile tilt reach and recline wheelchair
06/23/2018
Reviewer:
james l. from haltom city, tx
User Details:
Not provided
03/10/2011
Strengths:
Because of a hard base, it is easy for me to transfer on and off.
Weaknesses:
The gel separates and becomes uncomfortable. Every couple of minutes I have to adjust the gel. It would be nice if there were separate chambers containing the gel.
Reviewer:
catherine m. from georgtown, de
User Details:
I am 55 and have Multiple Sclerosis.
It is a good product - very good for postrual support.
01/02/2009
Weaknesses:
None specific.
Reviewer:
alta b. from evanston, wy (caregiver)
User Details:
The chair is used by an elderly woman with physical and psychiatric disabilities.
Provide products that complement wheelchair purchased.
10/27/2006
Strengths:
Online ordering of products and quick delivery.
Reviewer:
william y. from philadelphia, pa
User Details:
Male, Age 87, recovering from a left side stroke.
09/27/2006
Reviewer:
john s. from muncie, in
User Details:
Not provided