Jay J2 Recline
Only cushion specifically made for those in a tilt or recline chair.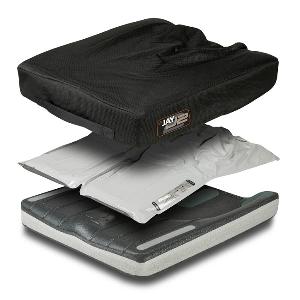 Sunrise/ JAY
(Model No. J2 RECLINE)
VIEW ITEM
More Information on the Jay J2 Recline
BACK TO TOP
Reviews
Viewing 1 - 3 of 3
Good company to deal with.
02/04/2018
Strengths:
The height is good at 2 or 2.5 inch thickness.
Weaknesses:
Not enough gel in the original cushion.
Reviewer:
leander b. from nashville, nc (caregiver)
User Details:
Mother had a stroke and needs a good padded cushion for sitting for long periods of time.
Not terribly comfortable but the only one for reclining...
01/27/2018
Strengths:
That it is made to tolerate the reclining chair's stress.
Weaknesses:
It's just not comfortable! I don't have to spend a lot of time in my chair or it would not be acceptable at all. Cost is also a serious drawback, it should be exquisite in comfort!
Reviewer:
lexie s. from cropwell, al
User Details:
Shipping was fine. Seat is not as comfortable as I had hoped. I looked hard but couldn't find another seat that would last in my reclining chair.
07/24/2016
Weaknesses:
More gel is needed.
Reviewer:
cathy s. from amarillo, tx
User Details:
Not provided