Low Profile
Best for a moderate to high risk of skin breakdown and the 2" cell height is great if you self-propel.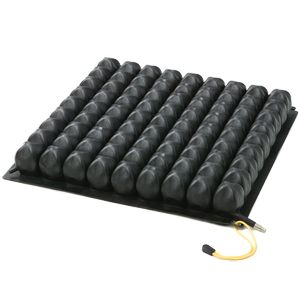 More Information on the Low Profile
BACK TO TOP
Reviews
Viewing 1 - 7 of 7
Rubber material seems harder/thicker than past Roho cushions
03/22/2015
Strengths:
Sturdy construction
Reviewer:
brian s. from seneca, sc
User Details:
63-year old male with injured spinal cord
10/13/2013
Weaknesses:
Expense ridiculous.
Reviewer:
william p. from lone tree, co
User Details:
53 year old male, 35 yrs post sci.
Excellent, comfortable support and decubitus protection.
07/31/2013
Strengths:
Durability, strength, well-designed
Reviewer:
bruce c. from woodbridge, nj
User Details:
73 year old retired internist with paraplegia due to chronic MS.
too $$$ for what you get and it's very heavy and awkward.
05/18/2012
Reviewer:
jeff g. from running springs, ca
User Details:
woman 60 yrs old w m.s.
12/01/2010
Weaknesses:
continuing adding air
Reviewer:
bruce s. from sugar land, tx
User Details:
56 yrs old, leg amputee, wheel chair restricted for ten months from surgery and at least six months left of wheel chair
10/19/2007
Reviewer:
gary s. from croton, oh (caregiver)
User Details:
I bought this product for my mother (Roho 2" air cushion). She was having pressure sores but the 2" cushion was too thin for her.
Comfortable but difficult to use.
09/20/2006
Weaknesses:
One cannot slide on it or use it to transfer which limits its use as wheelchair cushion.
Reviewer:
ray f. from armonk, ny
User Details:
Muscular Dystrophy
Popular Related Products