Scout 4-Wheel
A fun, easy to disassemble 4-wheel scooter for the budget conscious shopper.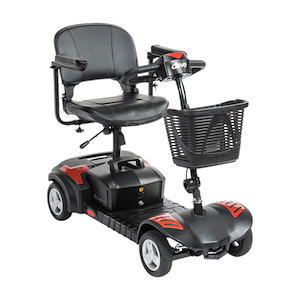 More Information on the Scout 4-Wheel
BACK TO TOP
Reviews
Viewing 1 - 4 of 4
Couldn't use this scooter due to the large turning radius. ...
06/18/2020
Strengths:
Unable to use, so unable to evaluate. It might be great for someone with a mansion with lots of room, but we live in a small house. We had planned to use it for shopping trips, but most stores don't have enough space to make turns with this scooter.
Weaknesses:
Unable to properly evaluate other than it makes too wide turns for my wife's use.
Reviewer:
ronald l. from claremore, ok (caregiver)
User Details:
I purchased the scooter for my 75 year old wife who has knee problems.
Thankful I made this purchase for my mom.
05/16/2019
Strengths:
Helpful, useful.
Weaknesses:
Had brief issues with the scooter after the purchase.
Reviewer:
mary b. from detroit, mi (caregiver)
User Details:
My mom is 81 with arthritis in her hip and she love her scotter.
04/04/2019
Reviewer:
janet a. from tavares, fl
User Details:
Senior who cannot walk and uses the scooter for all outdoor activities, shopping, etc. happy
08/20/2018
Weaknesses:
Unfortunately from the moment it arrived there were problems with the battery connectivity It is impossible to attempt to fix the problem with a person on the scooter so I had to PUSH it to a spot that the rider could transfer off and I could work on getting the connectivity with the battery fixed. Every time you hit a bump you loose connection to the battery. Such a disappointment!
Reviewer:
cindy c. from lebanon, or (caregiver)
User Details:
33 year old with cerebral palsy