Buzzaround XL Portable Scooter
3" longer than most travel scooters for more legroom and greater riding comfort.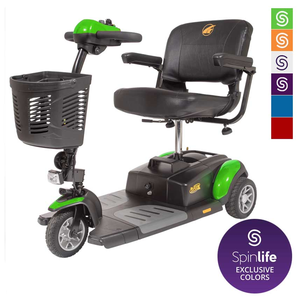 Golden Technologies
(Model No. GB117DHZ / GB147DHZ)
VIEW ITEM
More Information on the Buzzaround XL Portable Scooter
BACK TO TOP
Reviews
Viewing 1 - 1 of 1
Great product but, personally, it could use some tweaking.
11/22/2020
Strengths:
It is light weight and very easy to put together. Also, it has a great turning radius.
Weaknesses:
It doesn't have a great room for your feet. I have a lot of issues with my legs and feet so I really more room. It has a rounded edge where your feet go and I feel like it should be squared off.
Reviewer:
april c. from new kent, va
User Details:
I have small fiber peripheral neuropathy and fibromyalgia. It has gotten to the point when I have difficulty walking some days.